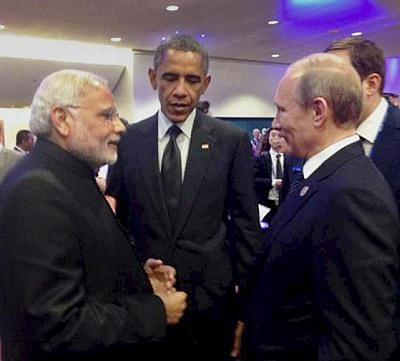 The United States has said it has no problem with India's engagement with Russia, but cautioned that it was not the right time to have trade deals with Moscow because of a series of international sanctions against it.
"It does not mean that India should not engage with Russia," a senior State Department official said when asked about the official US statement in the last few days that this is not the time to do business with Russia.

"We engage with Russia on Iran. We engage with Russia on a range of issues," the official said, requesting anonymity.

US Secretary of State John Kerry and his Russian counterpart Sergei Lavrov on Friday discussed over phone the situation in the Middle East, including recent developments in Israel, the West Bank and the region, as well as current initiatives at the UN, a top State Department official said.

"It (not doing business with Russia) just means that countries around the world do not move forward with same kind of economic relationship which they have done in the past given that sanctions that are put in place by a number of countries," the official said, referring to the US and EU sanctions against Russia over Ukraine crisis.

"Does this means that the kind of deals that India has done (with Russia during the just concluded visit of President Vladimir Putin) should not have done?" the official was asked.

"I would not say that. I understand that there are a range of countries that have relationship with Russia including India," the official said acknowledging the history of strong India-Russia relationship.

It is a complicated world, the official said.

"Our relationship with India is incredibly important to us. We have an important economic relationship. You can have a range of discussions behind the scene diplomatically, privately, which you do not necessarily say publicly," the official said.

Meanwhile, the State Department said Putin's just concluded India visit would have no impact on the visit of President Barack Obama to New Delhi to attend the Republic Day Parade as the chief guest.

"No," State Department Spokesperson Jen Psaki told reporters when asked if Putin's visit would have any impact on Obama's trip.

"India remains an important partner. Obviously, our economic relationship is a big part of what we continue to work on," Psaki said.

She was quick to point out India's stand on several Russian actions in past including that in Ukraine.

"I'd remind you India doesn't support the actions of Russia and the actions -- their intervention into Ukraine. They've (India) been pretty outspoken about that as well," Psaki said.

In an article, the Christian Science Monitor said that the message coming from Prime Minister Narendra Modi is that India will not forget its old friends.

"Modi's message seems to be that, even as a growing India with global ambitions expands its horizons to new partners, it's not going to forget old friends," it said.

"The Indian leader also may be signaling Washington -- which to Indian thinking has run hot and cold on India since relations first swung upward under George W Bush -- that the US shouldn't expect an exclusive relationship, the daily said.

The Washington Post said when Modi was still a regional Indian politician, Russia welcomed him three times on visits, while the US denied him a visa.