'We want to provide data, we want to provide consultation, but we don't want to lecture.'
'The consciousness about this issue in India is starting to get quite high and if we can help contribute to solving this air quality issue in a spirit of partnership with the Indians, it would be a big achievement.'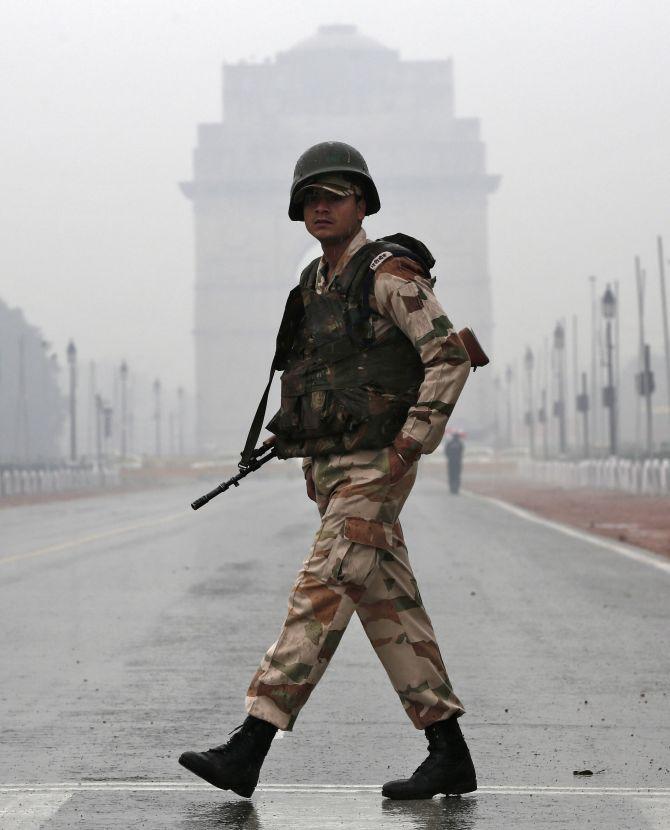 When Sheela Bhatt, my senior colleague in New Delhi, mailed me to ask US Ambassador to India Richard Rahul Verma, how, like many diplomats on Delhi, he was struggling with the acute pollution in the city, I had unfortunately finished my interview with Verma at the State Department on his maiden visit to Washington, DC since taking over as the American envoy three months ago.
But two days later, I had the opportunity to grill him on this issue after he delivered a major address to one of the largest audiences ever at the Carnegie Endowment for International Peace on how the US-India strategic partnership has moved into a new 'Strategic Plus' phase, and what must be done to sustain the momentum that is transforming and deepening the two countries's ties.
To peals of laughter, I asked Verma how on a personal level, with what's going on in Delhi with the air pollution there, whether he was getting out jogging in the morning, and are Pinky (his wife) and the kids going walking in the morning, or is it always a case of getting the Halloween masks out?
"I don't even know how to answer that," the ambassador said, "(but) yes, we are getting out and about and enjoying life in Delhi immensely."
Once the chuckling had died down, Verma acknowledged, "On a serious note, this is a serious issue -- and it's a serious health issue -- and it impacts people not just in New Delhi, but perhaps across the globe."
"We come at this in a spirit of partnership, as we have lived through this and we still live through this in many of our cities and particularly, our California example of what they were able to do, to continue to work on getting cleaner air in California, is an example, and I think that is very important."
"So, we want to provide data, we want to provide consultation, (but) we don't want to lecture," he added, and noted, "the consciousness about this issue in India is starting to get quite high and so, if we can help contribute to solving this air quality issue in a spirit of partnership with the Indians, it would be a big achievement."
After the ambassador's prepared remarks, T Kumar, the head of Amnesty International in Washington, DC, asked Verma about India's banning of the BBC documentary India's Daughter about sexual violence against Indian women.
Kumar asked Verma if he had "raised any meaningful objections to that because it was purely a freedom of expression issue, and if not, is there any hesitancy why you don't want to?"
"I noted in my remarks," Verma said, "that there is a debate that democracies have about speech," and added, "The issues that we engage with them on are the full panoply of issues from the strategic to the human, including on girls and women's safety, on gender-based violence, and we'll continue to raise those issues."
"Those are a critically important part of our agenda," Verma pointed out. "I think we have in Indian civil society very strong and vibrant and receptive partners to uphold those issues. The prime minister has himself said some very important and progressive things on women and girls as well."
On the particular issue "of whether a particular film gets banned or not, this is an issue for the people of India to resolve, and just like in the United States, when we have these same issues come up about what's hate speech, what's regulated speech, what's free speech, this is, again, the hallmark of a democratic society and I and any other ambassador couldn't possibly tell them how to resolve it."
"But we know how we'll resolve it here and we'll continue to engage, as I said, on the importance of women's issues, on the issue of openness, on the issue of transparency."
Earlier, in his prepared remarks, Verma expressed Washington's disappointment over India's voting against benefits for same-sex partners at the United Nations.
Pointing out to examples where the two strategic partners necessarily wouldn't always agree on an issue, he said, "We were disappointed, for example, by India's support this week for the attempt to strip benefits from UN staff in same-sex relationships," and vowed that "we will continue to support the rights of LGBT individuals in India, in international institutions, and around the world."
During the interaction, Verma was also asked for his take on Foreign Secretary Dr Subrahmanyam Jaishankar's recent speech where he had made a point about the 'American trumpet in the region,' and argued that 'it would be helpful if the American trumpet was more certain' in Asia.
"All of you know that the American role in Asia has essentially been hugely consequential and it is a role that has involved the enormous kind of blood and treasure of America," Verma said.
"And the amount of sacrifice that Americans have put into the Pacific, into Asia, to ensure that Asia remains free, the American trumpet has been certain, has been strong," he added. "We have been a Pacific power, and we will continue to be a Pacific power."
"The fact is, we have upheld and defended the democratic system, the rules-based order globally, but particularly in Asia," Verma said. "And so, I frankly am very proud of the US role in Asia and the historic role that we've played for decades and decades and the essential role that we will continue to play."
He was also asked to elaborate on his remarks on the discussions that are going on in India about its role, in particular, of it trying to decide whether it can move from a balancing power to a leading power, and what it meant to India's foreign policy, particularly under Prime Minister Narendra Modi's leadership on the world stage.
"I was just trying to state, somewhat factually, the debate within society -- of a regional power, global power, active in international institutions and shaping the design of them or merely as a participant."
"And that is a debate that is not resolved," he added, "but my sense is they would very much like to be an active player on the world stage, (but) they don't think that the institutions that have been shaped since World War II, have been particularly... they haven't had a seat at the table that they wanted."
"There was a conference (the India Today Conclave) in New Delhi two weeks ago," Verma said, "where they brought seven ambassadors together, from China, from Great Britain, Australia, myself and the theme was the global high table and India's role at the high table and the consensus of the seven or eight ambassadors was that India should have a role at the global high table, but that the global high table also comes with global responsibilities."
"I would argue that the post World War II system has actually been quite beneficial -- now they disagree with that, but this is what created an open trading system, a rules-based order, a resolution of disputes peacefully, the liberal system that we depend on."
"We need to be cognisant when India feels that they are not having a seat at that table," Verma acknowledged, "and that's why we have supported in a reformed UN Security Council, India's seat, why we have supported their role in East Asia in international institutions."
"And with that we will continue to have a dialogue about representing global, broader, international interests, and not just the interests of the non-aligned, or the interests of G-77, but if India wants that seat, we would argue that it should take that seat and advocate for and defend global interests that continue to uphold that liberal, democratic system that keeps the peace in so many places."
REDIFF RECOMMENDS
Images: Top: India Gate shrouded in smog ahead of this year's Republic Day. Photograph: Adnan Abidi/Reuters
A scene from the seventh Delhi Pride Parade, November 30, 2014. Photograph: Aseem Chhabra