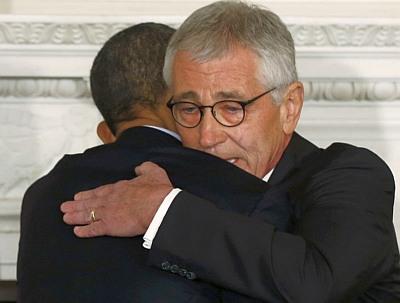 United States Defence Secretary Chuck Hagel has resigned under pressure, the first cabinet-level casualty coming close on the heels of Democratic Party loosing majority in the Senate and the Obama administration's struggle in dealing with the Islamic State.
Hagel, Obama's third defence secretary, submitted his resignation today morning after "several weeks" of discussions, officials said.
He has agreed to serve till his replacement is confirmed by the Senate.
The news of Hagel's stepping down was first reported by The New York Times, according to which Obama is dissatisfied with him in view of the several global crises particularly rise of the IS.
68-year-old Hagel is the only Republican in President Obama's national security team.
A Republican and Vietnam war veteran who was critical of the Iraq war, Hagel came to the Pentagon to manage the Afghanistan drawdown and the shrinking Pentagon budget in the era of budget sequestration.
Hagel was planning to call his new Indian counterpart this week.
The two had not been able to talk ever since Manohar Parikkar was sworn-in as the defence minister due to scheduling conflict.
Hagel was among the three Cabinet-level officials of the Obama administration to have travelled to India in the first 100 days of the Modi Government.
Hagel took over from another Republican Robert M Gates in 2013, who wrote a memoir of his years in the Obama administration in which he sharply criticised the president.
A formal announcement in this regard is expected soon by Obama.

Image: US President Barack Obama embraces Defense Secretary Chuck Hagel after announcing Hagel's resignation at the White House in Washington, November 24, 2014. Photograph: Larry Downin / Reuters
© Copyright 2022 PTI. All rights reserved. Republication or redistribution of PTI content, including by framing or similar means, is expressly prohibited without the prior written consent.