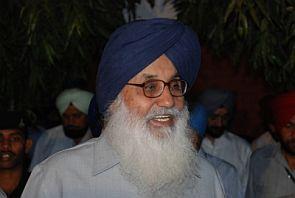 A United States court has dismissed a human rights violation case against Punjab Chief Minister Parkash Singh Badal on the ground that a Sikh advocacy group did not properly serve court summons on him.
The US Court of Appeals in Chicago dismissed the case filed by Sikhs for Justice against Badal on Tuesday.
The appeals court's order by Judge Richard Posner of the 7th US Circuit Court of Appeals still allows SFJ to re-file the lawsuit against Badal.
SFJ said it will file a petition for writ of certiorari before the US Supreme Court to review the judgment of the appeals court in the case.
The group has to file the writ by February 24 next year after it argued that a 30-day time frame is not sufficient to complete jurisdictional discovery to ascertain whether Badal was served with summons during his visit at Oak CreekHigh School in Wisconsin last year.
SFJ legal advisor Gurpatwant Singh Pannun said since rules of US Supreme Court only allow appeals involving "compelling reasons", SFJ is going to present the evidence of a foreign nation's involvement in administration in Badal's case.
Pannun alleged that Badal is resorting to obstruction of justice in the case which is a "compelling reason", warranting Supreme Court's intervention.
SFJ and Siromani Aakali Dal (Amritsar) had filed a case against Badal on charges of commanding a police force which they claim is allegedly responsible for extra judicial killings and human rights violations against the Sikh community in Punjab.
The plaintiffs have alleged that their families in India are allegedly being threatened and forced by the Badal administration to withdraw the case against him.