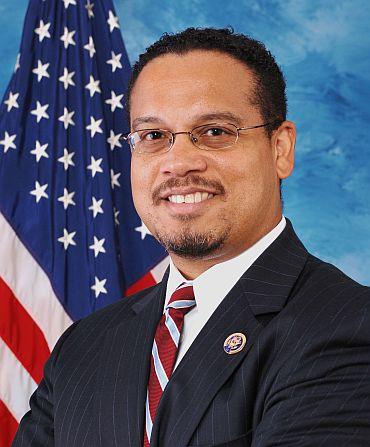 Muslim and secular organisations in the United States have hailed a congressional resolution by Minnesota Congressman Keith Ellison (Democrat) 'recognising the tenth anniversary of the tragic communal violence in Gujarat'.


Rep Ellison is a convert to Islam from Catholicism. The nonbinding resolution, which has no co-sponsors, has been sent to the House Foreign Affairs Committee.


The resolution quoted the International Religious Freedom Report of 2003, which said that the United States Department of State found that 'in Gujarat, the worst religious violence directed against Muslims by Hindus took place in February and March 2002, leaving an estimated 2,000 dead and 100,000 displaced into refugee camps. It was alleged widely that the police and state government did little to stop the violence promptly, and at times even encouraged or assisted Hindus involved in the riots. Despite substantial evidentiary material, the judicial commission responsible for investigating the riots reported inconclusive findings. No Hindus have been charged for the violence.'

The resolution noted that minorities in Gujarat continue to experience religious and socio-economic discrimination.


The resolution sought to recognise the suffering of all those persons who were affected by the 2002 violence in Gujarat, including those who lost their lives in the Godhra train fire.

It shared the opinion of the United States Department of State that the Gujarat government has not adequately pursued justice for the victims of the 2002 violence.

It remains concerned by reports from journalists and human rights groups about the complicity of Gujarat Chief Minister Narendra Modi in the 2002 violence.


It also commended the United States government for denying a visa to Modi in 2005 on the grounds of a religious freedom violation under the International Religious Freedom Act of 1998.


While applauding the Department of State and the United States Commission on International Religious Freedom for their monitoring of religious freedom in India and throughout the world, it saluted the role of Indian police officers who, despite personal risk, provided honest testimony about the violence in Gujarat and also supported the role of independent media in India that continue to highlight the Gujarat issue.


The resolution also appreciated the role of the National Human Rights Commission and the Indian Supreme Court, which has led to some convictions in Gujarat riot cases, and also the arrest of a few high-level leaders in the Modi administration.


It called on the Gujarat government to heed the recommendations of the State Department to restore religious freedom for all citizens in Gujarat.