Babulal 'Bob' Bera, US Congressman Ami Bera's 83-year-old father, faces 5 years in prison for making 'excessive contributions' to his son's political campaigns in 2009 and 2011.
Aziz Haniffa/Rediff.com reports from Washington, DC.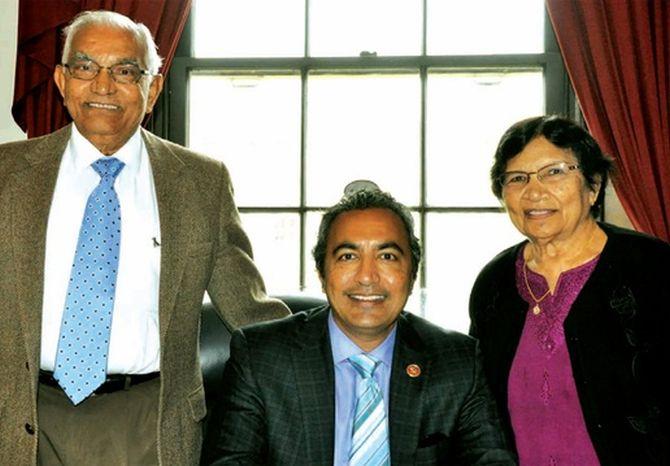 In a devastating and equally sad political scandal for the Indian-American community, Babulal 'Bob' Bera, the 83-year-old father of United States Representative Dr Amerish 'Ami' Bera, California Democrat and the only Indian-American member in the US Congress, pleaded guilty to what the US Department of Justice said, was 'making excessive campaign contributions and making campaign contributions in the name of another' on Tuesday, May 10.
The charges against Babulal Bera were filed in the District Court in Sacramento on May 9. On May 10, he was arraigned and pleaded guilty to both counts before United States District Judge Troy L Nunley.

According to court documents filed by the Federal Bureau of Investigation, in 2010 and 2012, Bera's son was a candidate for a seat in the US Congress representing District 3 (2010) and District 7 (2012) from the state of California.

'With respect to both elections, the candidate's official federal campaign committee was headquartered in Elk Grove. With respect to both elections, the defendant made the maximum allowable individual contributions to his son's campaign, and he also solicited friends, family members and acquaintances to make contributions, which he then reimbursed with his own funds,' the US department of justice stated.

Babulal Bera, it added, 'did this to make contributions to his son's campaign in excess of the contribution limits established by federal law. With respect to the 2010 and 2012 elections, the government has identified over 130 improper campaign contributions involving approximately 90 contributors.'

The elder Bera pleaded guilty to funneling $225,326 (Rs 1.5 crore/Rs 15 million) to back his son's political aspirations in 2009 and an additional $43,000 (Rs 28.7 lakh/Rs 2.87 million) in 2011.
In both election cycles, Congressman Bera's parents had already made their own contributions of $2,400 (Rs 1.6 lakh/Rs 160,000) and $2,500 (Rs 1.66 lakh/Rs 166,000), the maximum allowed under US law.

Babulal Bera, who was ordered released on his own recognisance, and is scheduled to be sentenced by Judge Nunley on August 4, could face a maximum statutory penalty of five years in prison on each count.

The US department of justice acknowledged that 'the actual sentence, however, will be determined at the discretion of the court after consideration of any applicable statutory factors and the Federal Sentencing Guidelines, which take into account a number of variables,' and considering Babulal Bera's age and health, he is likely to serve no more than two-and-a-half years.

Under the terms of a plea agreement, the prosecutors agreed not to charge Babulal Bera's wife, Kanta Bera.
'My dad taught me that we are all accountable for our own actions, and while I deeply love him, it's clear he faces a grave situation that will have real consequences for him.'
Congressman Bera's campaign released the following statement, 'I am saddened to learn of these allegations against my father, and I understand that he will soon appear in front of a judge to respond to these charges.'

'Since I first learned about this investigation from authorities,' Dr Bera said, 'my team and I have cooperated fully with the US Attorney's Office,' and declared, 'Neither I, nor anyone involved with my campaign, was aware of my dad's activities until we learned about it from the US Attorney's Office, and on the advice of my attorney, I have not discussed this matter or anything else regarding my campaigns with my father.'

'My father taught me the value of hard work and, if not for him, I would not be a doctor. But he also taught me that we are all accountable for our own actions, and while I deeply love him, it's clear he faces a grave situation that will have real consequences for him,' the Congressman added.
Dr Bera is seeking re-election for a third term in November and is running against Republican Scott Jones, the Sacramento county sheriff.
US Attorney Phillip A Talbert told a news conference on Tuesday that 'Congressman Bera and his campaign staff have been fully cooperative in this investigation.'

'To date, there is no indication from what we've learned in the investigation that either the Congressman or his campaign staff knew of, or participated in, the reimbursements of contributions,' Talbert added.
But the Republican Party immediately pounced with the National Republican Congressional Committee taking aim at Dr Bera, calling on him to return hundreds of thousands of dollars in donations.

Zach Hunter, the National Republican Congressional Committee spokesman, in a statement, said, 'As new reports reveal that illegal donations helped finance his campaigns, Ami Bera needs to immediately return the hundreds of thousands of dollars of illegal campaign contributions he has accepted.'
'It defies belief that Representative Bera was unaware of these activities, and 7th District voters deserve to know the truth,' Hunter alleged.

Harmeet Kaur Dhillon, the newly minted first and only Indian-American Republican National Committeewoman, elected on May 1, and a vociferous critic of Dr Bera, immediately posted on Facebook, 'How does Bera NOT know his dad is committing election fraud on a massive scale.'

Scott Jones, Dr Bera's rival, was more measured and said in a statement that 'we need to allow the investigation and the justice system to discover all the facts and reach their conclusions.'

According to the Sacramento Bee newspaper, Babulal Bera had pleaded to two charges of election fraud and admitted to 'hiding the bulk of the contributions through the kickback scheme in order to exceed the legal maximum on individual contributions under federal election laws.'

'The names of the donors and the amounts attributed to them would have appeared on Ami Bera's filings with the Federal Election Commission,' the Bee reported, 'but were not specified in the plea agreement.'

According to prosecutors, the investigation had been triggered by an anonymous tip to the FBI in the fall of 2014 that the donations were made and later repaid by people in various parts of the country.

Babulal Bera was interviewed by the FBI last October about these contributions. He was arraigned shortly before appearing in Judge Nunley's courtroom and then escorted away without answering any questions from the media.

Congressman Bera's campaign told The Los Angeles Times that that he had written a check from his political account to the US Treasury on Tuesday to cover the entire amount identified by prosecutors.

The newspaper reported that 'Bera's 2014 challenger, former Representative Doug Ose, watched the father's guilty plea from the courtroom audience on Tuesday,' and noted that 'Bera also finds himself in a tough spot with some traditional Democratic supporters this year, as labour unions have sharply criticised him for supporting President Obama's Trans-Pacific Partnership trade agreement.'

A segment of Sikh Americans in Sacramento, formerly his supporters, have also been incensed over Dr Bera's refusal to support a resolution alleging genocide against Sikhs in 1984 and worked against him when he ran for re-election in 2014.

'His father, who leaned on a cane in court, asked for the help of an interpreter during Tuesday's proceedings,' the LA Times reported. 'He was allowed to return home while awaiting sentencing but agreed to surrender his passport.'

'When asked by the judge whether he was guilty of helping illegally funnel cash to his son's campaign, Babual Bera said through the interpreter, "I have, in fact, done the crime",' the newspaper reported.

Babulal Bera hails from Vadodara and came to the US in 1958, armed with a bachelor's degree in chemistry from Rajkot University, to pursue graduate studies in chemical engineering. He received his master's degree from the University of California in Los Angeles.

Kanta Bera, who hails from Gonta, followed two years later. She had a bachelor's degree in psychology and philosophy and went to school for her master's degree in secondary school administration and supervision in the US and then taught at the Johnston School in Norwalk in the La Mirada School District from 1967.

In the manner of true pioneers, Babulal Bera, who was studying, worked part-time -- including for the baseball teams the LA Dodgers and Giants -- to support his wife in those early years, years that saw him move from Brooklyn to Los Angeles and then to San Francisco.
In an wide-ranging interview with Rediff.com, in his son's Congressional office in May 2013, Babulal bera recalled those early days vividly -- when "there were only 12 Indians in Orange County, and all of them were students, six in engineering and six in pharmaceuticals. We saw not only the community grow, we also saw California grow."
"At that time, we bought a hall in 1972 just to play bridge, and 10 of us used to get together and play bridge. Earlier, we had to arrange to play bridge from one house to another every weekend. The ladies would do the cooking. So, we decided rather than doing this, let's get a hall for about $100,000. We paid cash -- all 11 of us. Later, we made it into a temple in LA, and we continued to expand it. Now, there was no bridge and now we had to take our shoes off."

Babulal and Kanta also helped Babulal's four brothers and one sister to immigrate to the US. "I brought all my brothers here, and all thanks to Kanta. She wanted them educated and she helped me get them all over here, one by one. All live within 15 miles of each other."

"Ami always wanted to do something to make a difference -- to do something for the betterment of the people. And, he felt, he had to be in Washington, DC to make a difference," he said about his son.

When Ami announced he was "looking into running for Congress," Babulal told this correspondent, he had told him, 'You are a doctor, you have a good life, but if you get into politics, you know what you are getting into and, life is going to be difficult.'

;We told him it's not going to be easy. We asked him to think deeply about it, but we made clear to him that if he was going to run, then to go 100 per cent -- give it his all because then even if you win or lose -- somebody has to win and somebody has to lose -- you will know you gave it your best."

Babulal Bera recalled how "after his loss the first time (to incumbent Republican Dan Lungren), we told him to go get some sleep and that we'd see him in the morning."
"When I saw him in the morning, I knew right away that he was going to run again," the father said. "And I told him, if you want to do it, we are behind you all the way. I advised him to give his best again. I knew he was going to win this time around." Dr Bera defeated Lungren by a wafer-thin majority.
IMAGE: Kanta and Babulal Bera with their son United States Congressman Ami Bera.