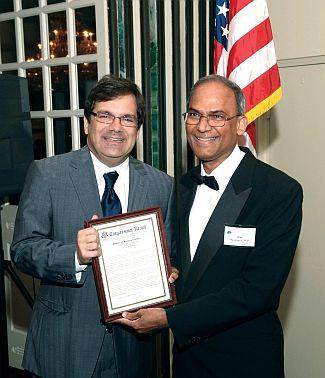 A tribute to Indian American cardiologist Dr Rao Musunuru was entered into the Congressional Record during the first session of the 112th United States Congress on January 6, for his extensive community service and medical, scientific, humanitarian, educational and philanthropic contributions, by United States Representative Gus Bilirakis, Florida Republican.

'The lives he (Musunuru) has impacted are countless,' Bilirakis said, 'and I applaud him for his resolve to use his talents to meet the growing needs of the community and the larger medical profession.'

Bilirakis presented a copy of the Congressional Record to Musunuru at an event called Pioneers of Pasco, dedicated to six families in the Florida county, who can trace their community roots back several generations, some as far back as 1899.

Last year, Musunuru, also a community activist and columnist, was honoured by the Florida Association of Physicians of Indian Origin with its Physician of the Year award.

When he won the Life Time Achievement Award from the Tampa Bay Business Journal's Health Care Heroes in 2007, the newspaper described how he introduced open-heart surgery at the Regional Medical Centre Bayonet Point in Hudson in the early 1980s.

He thought it better to perform open-heart surgery in-house

rather than sending them to Tampa. He bought an echocardiogram machine for the hospital on his own. Later he became director of cardiology there turning it into a heart institute that was ranked in the top 50 nationwide by US News & World Report twice.



Musunuru was instrumental in the passage of the Florida Stroke Act, 2004, the first of its kind in the United States, which established a set of guidelines for all hospitals that want to become stroke centres.

As secretary of the coalition Floridians for Youth Tobacco Education, he campaigned for the successful passage of Florida Constitutional Amendment-4 in 2006. It reinstated a nationally recognised tobacco prevention programme in Florida, with an annual budget of over $50 million, to educate the state's youth about the risks of tobacco use.

Musunuru, who is originally from Andhra Pradesh, writes regularly for the St Petersburg Times and the Tampa Tribune. In 2005, he won the national Physician of the Year award from the American Heart Association.

Image: US Representative Gus Bilirakis (Left) presents a copy of the Congressional Record to Dr Rao Musunuru