By driving a hard bargain with Russia in procuring crude oil at the lowest price possible, India is furthering the policy of G7 and Washington is "comfortable" with New Delhi over its approach in addressing issues relating to energy security, a top Biden administration official said.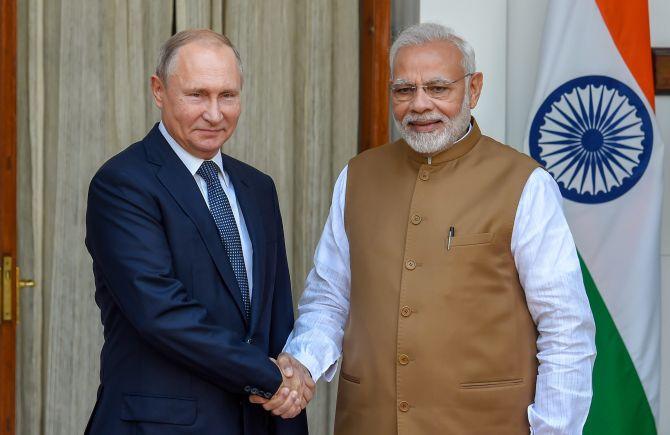 In an exclusive interview to PTI, Assistant Secretary of State for Energy Resources Geoffrey R Pyatt said there is "no contradiction at all" in India remaining one of the key global partners of the US and the country's increasing procurement of discounted crude oil from Russia.
The comments are the first clear articulation of the Biden administration's position on India's increasing procurement of discounted crude oil from Russia amid the Ukraine conflict.
Asked whether the US will impose secondary sanctions on Indian banks if they use the rupee-rouble mechanism set up by India and Russia for bilateral trade, the top diplomat chose not to speculate on it but said Washington's sanctions are only aimed at punishing Moscow.
The US assistant secretary of state for energy also said the Indian companies are "very successfully" negotiating the price for Russian crude oil which enabled Indian refiners to then put the product on the global market at a "very competitive and profitable price".
Pyatt, during his February 16-17, visit to New Delhi, said India is a critical partner for the US on everything around energy transition and both sides are looking at an array of options to significantly expand the collaboration including in areas of green hydrogen and civil nuclear energy.
"Our experts assess that India right now is enjoying the discount of about USD 15 a barrel in the price that it is paying for its imports of Russian crude. So India, by acting in its own interest, by driving a hard bargain to get the lowest price possible, is furthering the policy of our G7 coalition, our G7 plus partners in seeking to reduce Russian revenues," Pyatt said.
"I think that is how we look at this. We have a very good dialogue with the Government of India on these issues," he said.
"But I think what is very important for everybody to understand is that this is not a temporary state of affairs. There is going to be no return to business as usual with Russia as long as Vladimir Putin continues to choose this course of aggression," Pyatt said.
India, the world's third-largest crude importer after China and the US, has been snapping discounted Russian oil after many Western countries shunned it as a means of punishing Moscow for its invasion of Ukraine.
Also, the G7 (US, UK, Germany, France, Italy, Japan, Canada) imposed a cap on the oil price that came into effect in December and stopped countries from paying more than USD 60 a barrel to Russia for oil procurement with an aim to stop Moscow profiting from its oil exports.
Pyatt, who served in Ukraine as US ambassador said Russian President Putin has not only lost his major market in Europe through his action, but he has also spurred the Europeans to double down their investment in the clean and most secure energy sources.
"So, we are very comfortable with where India is on these issues, but most importantly we are strongly committed to a close dialogue with the Indian government on this and I will continue that dialogue in my discussions," he said.
To a question on whether he sees any contradiction in India remaining one of the strongest global partners of the US and its increasing procurement of crude oil from Russia, Pyatt said he does not think so.
"No contradiction at all. To the contrary, we see India as a really critical partner for the United States on everything around both energy transition and also energy security," he said.
"We understand that energy security has been disrupted by the actions of Putin and... have to work together to build a more resilient system and to deal with the consequences of Moscow's actions," he added.
On apprehensions among Indian banks to use the rupee-rouble mechanism, Pyatt only said the Biden administration has not sanctioned third countries.
"I don't want to get into too much of a speculative scenario ...but what I want to be clear is that our policy has been focused on punishing Russia, trying to change Russia's behaviour. We have not sanctioned third countries as part of this effort. I will leave it there for now," he said.
"I am very comfortable with the status of the US-India conversation on this question of Russian crude oil," Pyatt said.
The US assistant secretary of state for energy pointed out the cost of Russian aggression on the globe, especially in countries like India.
"This disruption, I am fully aware, is imposing a cost not just on Europe but globally, but especially in countries like India. You see the effect on commodity prices and rising prices of fertilisers. Huge swings have taken place in the price of crude oil which affects every farmer," Pyatt said.
"The US has worked very closely with our partners to build a structure through the G7 price cap mechanism intended to reduce the resources which Vladimir Putin gets from his oil and gas, which he uses to pay for the brutal war of aggression, but at the same time to keep that product on the global market," he said.
Pyatt said the US recognises that India, as an energy importer, is severely affected by the disruption.
"We have to remember why this happened. It happened because of one man and I think we also see an important role for India in the context of ensuring that this can never happen again," he said.
The US assistant secretary of state also said the policy of the G7 is working.
"You can see it is working in the growing Russian deficits," he said.
The Indian government has been vehemently defending its oil trade with Russia, saying it has to source oil from where it is the cheapest.
Pyatt also accused Putin of weaponising Russian energy resources through his actions.
"He has lost Russia's traditional largest market for oil and gas in Europe. Everybody talks about European dependence on Russian oil and gas but they forget the other side of the coin which is Russia's dependence on Europe. That market is gone," Pyatt said.
"We cannot lose sight of the fact that the only reason that the world has gone through this huge disruption is one man's obsession with denying the reality of a sovereign Ukrainian State," he said.
"Let's remember how we got here. We got here because 12 months ago, Vladimir Putin chose to invade a sovereign country because he denied its existence," the US diplomat said.
"He has caused untold suffering of innocent civilians. He has been responsible for the deaths of tens of thousands of Ukrainians including women and children. He tried to systematically destroy the Ukrainian energy grid," Pyatt said.
The senior diplomat said the crisis has created an incentive, particularly in places like Europe, to accelerate the energy transition.
"It is important to understand that Putin thought he could bring Europe to its knees by holding back gas resources, (but) that has failed and now that it has failed, he cannot play that card again. We have to make sure that he is never in a position to do that to anybody else," Pyatt said.
The diplomat said the US and its G7 partners have put in place very rigorous sanctions against Russia not only against its product but also against the technology that the country uses.
He also cited an assessment by the International Energy Agency that by the end of 2030, Russia's oil and gas revenues will decline by half because of Putin's actions.
Pyatt served as US ambassador to Ukraine from 2013 to 2016.
He has also served at the US embassy in New Delhi in different positions -- deputy chief of mission from 2006 to 2007, political counsellor from 2002 to 2006, and political officer from 1992 to 1994.
© Copyright 2023 PTI. All rights reserved. Republication or redistribution of PTI content, including by framing or similar means, is expressly prohibited without the prior written consent.