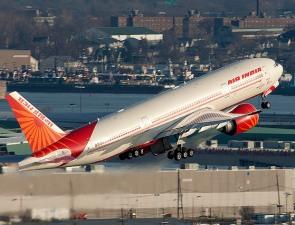 An Air India Boeing 777 flight carrying 313 people on board returned to Newark airport in New Jersey, US, soon after take off following a bird hit that damaged its left engine.
No one was injured in the incident in which the aircraft, operating the Mumbai-bound flight AI 144, took off from Newark Liberty International Airport, at about 4:30 pm Sunday local time.

The flight was grounded, as it landed at about 5 pm local time, due to the "loss of the port (left) engine", after the bird hit, an AI official told PTI.
Passengers were deplaned and provided hotel accommodation and alternative arrangement were being made by the airline to bring them back.
Men and material have been flown from Delhi to repair the damage, the official said.
Onboard the aircraft were 18 passengers in the business class and 274 in the economy class, and rest were crew members.
© Copyright 2022 PTI. All rights reserved. Republication or redistribution of PTI content, including by framing or similar means, is expressly prohibited without the prior written consent.