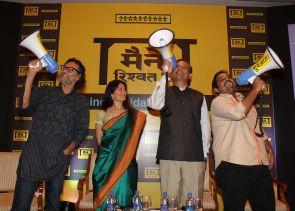 Pankaj Sinha from Phoenix, Arizona, has been selected to pen the lyrics for the new anti-corruption anthem in Hindi. Sinha bagged the honour on winning the 'Mujhse Hogi Shuruat' contest organised by music composer Shankar Mahadevan and the web site ipaidabribe.com, the online initiative by Bangalore-based NGO, Janaagraha. Sinha's prize: his lyrics will be set to music and sung by the noted Bollywood composer, and he will also get meet latter as well as the team behind Janaagraha.
Announcing Sinha's name on Thursday at an event to launch the Hindi version of ipaidabribe.com (Maine Rishwat Di) in Mumbai, Mahadevan said, "It is important that citizens speak up and take action. The fight against corruption will be a long journey. But I am confident that ipaidabribe.com and Maine Rishwat Di will achieve their lakshya."
Ipaidabribe.com, possibly the world's largest crowd-sourcing platform against corruption, has in the three years of its launch recorded 20,000 bribe stories from over 400 cities and towns in India. Its Hindi version is expected to reach over 600 million Hindi-speaking people across India, giving them an opportunity to report their corruption and bribe experiences, and significantly contributing to corruption data and trends.
"People like me in the entertainment industry can contribute to social change through our work," Mahadevan told the gathering on Thursday.
Rang De Basanti director Rakeysh Omprakash Mehra, who was present at the event, said, "Janaagraha's work is all about social change that is action-oriented and does not stop with talking. I feel honoured to be part of it."
Apart from the anti-corruption anthem in Hindi, mobile apps and SMS services facilitating bribe reporting by citizens were also launched at the event. Citizens without access to smartphones or internet connection can now send a bribe report to the website through an sms to 56363.
Describing the impact of ipaidabribe.com and Maine Rishwat Di, Swati Ramanathan, co-founder, Janaagraha, said, "Ipaidabribe.com has succeeded in collecting data on day-to-day bribes and corruption based on an innovative crowd-sourcing model. It also captures the anguish and distress that citizens experience when confronted with the demand for bribes."
Image: Film director Rakeysh Omprakash Mehra, Janaagraha co-founder Swati Ramanathan, managing director of Omidyar Networks Jayant Sinha, and Shankar Mahadevan at the event in Mumbai on Thursday