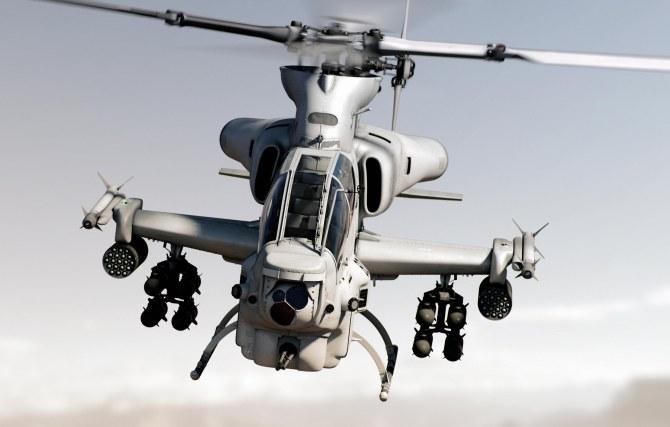 An AH-1Z Viper attack helicopter in action.
The United States state department has reportedly given a final nod to Pakistan's request for military hardware and equipment worth billions of dollars, recognising the nation's vital place in US foreign policy and national interests.
A certification issued by the US Defence Security Cooperation Agency notified the Congress of this possible sale. It said that the proposed sale would provide Pakistan the required military support to carry on its counter-terrorism and counter-insurgency operations in South Asia, reported the Dawn.
The certification added that the weapons would provide Pakistan with 'a precision strike, enhanced survivability aircraft' that it can operate at high-altitudes. It assured lawmakers that the sale will not 'alter the basic military balance in the region'."
"This proposed sale of helicopters and weapons systems will provide Pakistan with military capabilities in support of its counter-terrorism operations inside the country," State Department Deputy Spokesperson Marie Harf told media persons.
"They are for internal counter-terrorism uses inside Pakistan -- so to be very clear about that, going after terrorists inside their own country," she said.
"We obviously have many ways of monitoring how weapons we sell to any country are used in terms of end use and how we monitor that. That's obviously something we care very deeply about," Harf said when asked whether the US is confident that Pakistan is going to use the aid for the purposes in which it is being sold and not against India.
"Do you trust the Pakistanis?" she was asked. "This isn't about trust. This is about being able to see where our weapons go, see what they're used for, and that's something we are confident we are able to do," she said.
"We have a very close counter-terrorism relationship with Pakistan for very good reasons. There's still a serious threat in Pakistan from terrorists who have either attacked the US or American soldiers in Afghanistan, who have tried to plot and plan against the West, including the US," she said.
"Obviously, the remnants of core Al Qaeda are mainly in the tribal areas of Pakistan. So the Pakistanis have a serious problem still, and that's why we're trying to help them. This is in our national security interest to do so," she said.
The document informed the Congress that the state department had approved the sale of AH-1Z Viper attack helicopters, AGM-114R Hellfire II missiles and associated equipment, parts, training and logistical support for an estimated cost of $952 million.
Diplomatic sources said that Pakistan had submitted the request last year, saying that the weapons were needed for counter-terrorism operations in the country's mountainous regions.
The notification said the government of Pakistan had requested a possible sale of 15 AH-1Z Viper attack helicopters, 32 T-700 GE 401C engines (30 installed and 2 spares), 1000 AGM-114 R Hellfire II missiles in containers, 36 H-1 Technical Refresh Mission computers, 17 AN/AAQ-30 Target Sight Systems, 30 629F-23 Ultra High Frequency/Very High Frequency Communication Systems.
It has also requested 19 H-764 Embedded Global Positioning System/Inertial Navigation Systems, 32 Helmet Mounted Display/Optimised Top Owl, 17 APX-117A Identification Friend or Foe, 17 AN/AAR-47 Missile Warning Systems, 17 AN/ALE-47 Counter-measure Dispenser Sets, 18 AN/APR-39C(V)2 Radar Warning Receivers, 15 Joint Mission Planning Systems, and 17 M197 20mm Gun Systems.