The United States on Thursday put Iran "on notice" for test-firing a ballistic missile and warned of consequences for its "malign actions", signalling a more hardline stance against Tehran that could set the stage for renewed confrontation between the two nations.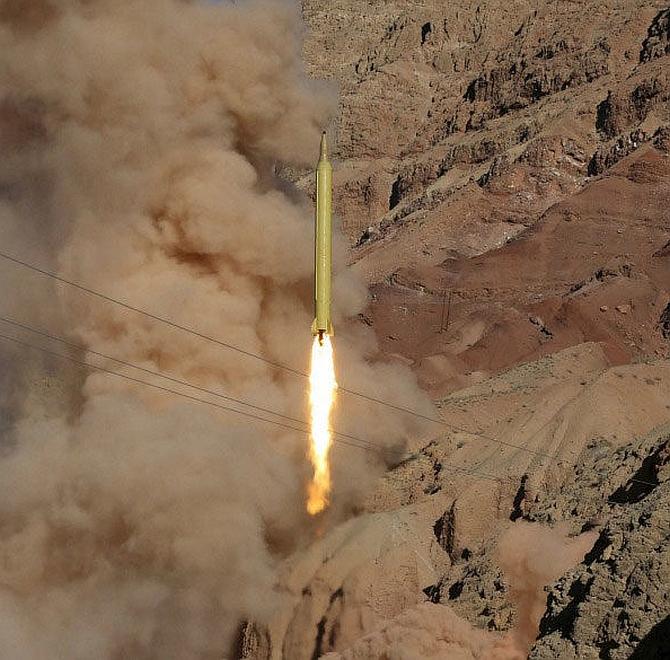 "As of today, we are officially putting Iran on notice," President Donald Trump's National Security Adviser Michael Flynn said.
The pronouncement marked a pivot away from the previous Obama administration's policy of diplomatic engagement with Iran which led to a 2015 multinational nuclear deal.
In a statement that can have far-reaching implications in the Middle East, Flynn said recent Iranian actions, including the "provocative" ballistic missile launch on Sunday and an attack against a Saudi naval vessel conducted by Iran-supported Houthi militants, "underscore what should have been clear to the international community all along about Iran's destabilising behaviour" across the region.
The adviser said that the ballistic missile launch, the first by Iran since Trump become president, is in contravention of UN Security Council Resolution 2231.
The resolution calls upon Iran not to undertake any activity related to ballistic missiles designed to be capable of delivering nuclear weapons, including launches using such ballistic missile technology.
"In these and other similar activities, Iran continues to threaten US friends and allies in the region," Flynn said.
"The Obama administration failed to respond adequately to Tehran's malign actions - including weapons transfers, support for terrorism, and other violations of international norms. The Trump Administration condemns such actions by Iran that undermine security, prosperity, and stability throughout and beyond the Middle East and place American lives at risk," he said.
In the past Trump had severely criticised various agreements reached between Iran and the Obama administration as well as the UN, terming them "weak and ineffective".
"Instead of being thankful to the United States for these agreements, Iran is now feeling emboldened," Flynn said.
Later senior administration officials said the Trump administration has all its options open. Describing the recent Iranian actions as destabilising, the officials said the United States will respond to it appropriately.
"There should be no doubt that the United States is committed to holding Iran accountable for adhering to missile restrictions and accountable for behaviour in the region that we consider to be destabilising," a senior administration official told media persons on Wednesday.
The US is reviewing what information we may be able to share with the Security Council regarding Iran's ballistic missile activity, the official said.
"We will also continue to insist on full implementation of the binding measures in the UN Resolution 2231 that prohibit all outside support to Iran's ballistic missile programme," he said.
According to reports, Iran's missile test occurred at a well-known site outside Semnan, about 225 km east of Tehran. The Khorramshahr medium-range ballistic missile flew 600 miles before exploding.
Iranian Foreign Minister Javad Zarif on Wednesday said none of Iran's missiles had been designed to carry a nuclear warhead and that therefore the program didn't conflict with the UN resolution.
Iran has warned that new US sanctions could constitute a violation of the nuclear deal, setting up a scenario in which the agreement could unravel something that hardliners in both countries would welcome.
The row comes against a backdrop of already strained relations between Washington and Tehran over Trump's travel ban on citizens from Iran and six other Muslim-majority countries.
Trump on Wednesday tweeted, "Iran is rapidly taking over more and more of Iraq even after the US has squandered three trillion dollars there. Obvious long ago!"
The Iranian government's influence in Iraq has grown since the US withdrawal in 2011, and US officials have worried that Iran, while fighting Islamic State, will use that influence to fuel sectarian tensions.
Representative Photo: Tima/Reuters
© Copyright 2023 PTI. All rights reserved. Republication or redistribution of PTI content, including by framing or similar means, is expressly prohibited without the prior written consent.