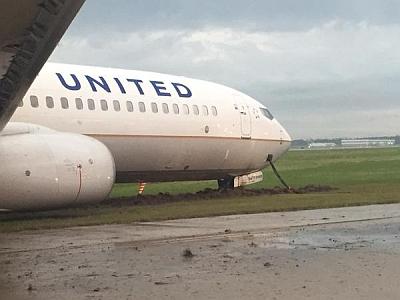 A United Airlines jet with 173 people on board skidded off a wet runway into a muddy area when it landed at the Houston Bush Intercontinental Airport.
Airport officials said United Flight 1545, arriving from Las Vegas, slipped off a runway at around 5:30 am (local time) when it was taxiing towards the terminal. The plane made a wide turn on the taxiway and went into a muddy grass area.
None of the 167 passengers and six crew members on board the Boeing 737 reported injuries. The incident, however, forced the closure of the runway while crews worked to clear the scene.
A United Airlines spokeswoman said the airlines was still looking into what led to the incident. It has been raining throughout Monday morning and the runway was visibly wet.
Passengers said that first it felt like a hard landing, but then the aircraft kept going right off the slick runway and into grass and mud.
They said they had to wait for nearly two hours before they finally disembarked using stairs.
"I don't think anybody really knew what was happening... until they came on and we realized we were in the middle of the grass and going to be stuck on the plane for a while," Ben Dluback, a passenger, said.
"I think some people were kissing the ground when we landed... I called my wife and told her hey I'm all good," another passenger, Dana Sherman, said.