The Uri attack suspected to have been carried out by Pakistan-based terror outfit Jaish-e-Mohammed on Sunday drew fierce condemnation across political spectrum with Prime Minister Narendra Modi vowing that those behind the "despicable and cowardly" act will not go unpunished.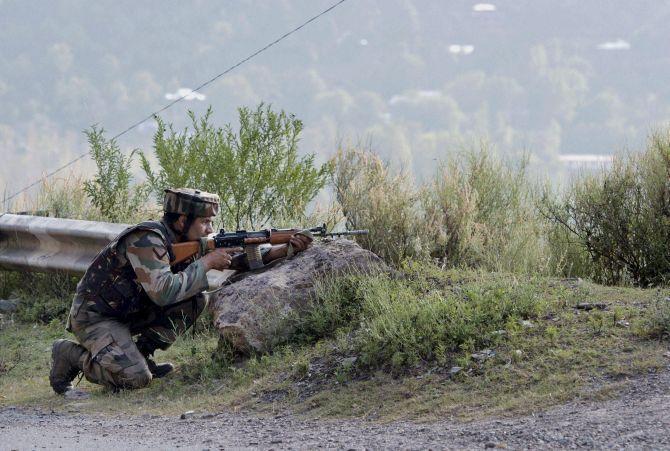 The outrage sparked by the strike on an army base in Uri in which 17 jawans were killed was also reflected in President President Pranab Mukherjee's statement in which he declared that India will not be cowed down by such "outrageous" attacks and that it will thwart the evil designs of terrorists and their backers.
Talking tough, Bharatiya Janata Party leader Ram Madhav asserted that days of strategic restraint are over and suggested that "for one tooth, the complete jaw" should be the policy after the terror attack.
"We strongly condemn the cowardly terror attack in Uri. I assure the nation that those behind this despicable attack will not go unpunished," Modi tweeted.
Terming the attack as a "deplorable affront" on national conscience, Congress President Sonia Gandhi hoped that the perpetrators will be brought to book while her party colleague Capt Amarinder Singh said the "provocative" act by Pakistan must be taken up seriously and reciprocated in the same measure.
Union Home Minister Rajnath Singh pointed a finger directly at Pakistan, saying it is a "terrorist state" and should be isolated.
"Pakistan is a terrorist state and it should be identified and isolated as such," Singh said in a strongly worded statement after a hour-long review meeting in New Delhi.
"There are definite and conclusive indications that the perpetrators of Uri attack were highly trained, heavily armed and specially equipped," Singh said, vowing to identify those behind it.
Echoing the views of Modi and Singh, Union Minister Arun Jaitley asserted that the perepetrators of the Uri attack would be punished and that India will intensify diplomatic efforts to isolate Pakistan internationally.
The Communist Party of India-Marxist Central Committee, now in session, said Pakistan should stop aiding and abetting extremist forces.
Party General Secretary Sitaram Yechury said Pakistan must refrain from indulging in cross-border terrorism and demanded that the matter be taken up "seriously."
The Uri terror strike is aimed at triggering fresh violence in Jammu and Kashmir and creating a "war-like" situation in the region, Chief Minister Mehbooba Mufti said, adding Jammu and Kashmir has always been the worst victim of Indo-Pak hostility and its people have been paying a colossal price for the same for the past over six decades.
Virtually blaming Pakistan for the Uri attack, BJP President Amit Shah said India's fight against terrorism has reached a decisive stage and the Modi government is moving in the right direction to ensure that the sacrifices of soldiers does not go waste.
Rashtriya Swyamsevak Sangh General Secretary Suresh Bhaiyyaji Joshi said terrorists as well as their masters and supporters should be dealt with firmly and conclusively.
Former Jammu and Kashmir Chief Minister Omar Abdullah while condemning the attack said better facilities including "fire retardant" tents should be given to the soldiers after it came to light that at least 13 jawans died due to the fire in their tents.
IMAGE: An army soldier takes position near army brigade camp during a terror attack in Uri, Jammu and Kashmir. Photograph: S Irfan/PTI
© Copyright 2021 PTI. All rights reserved. Republication or redistribution of PTI content, including by framing or similar means, is expressly prohibited without the prior written consent.