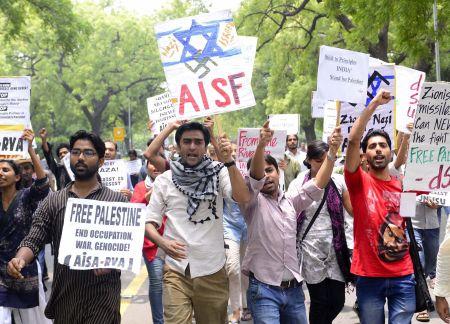 The government refused on Monday to go ahead with a listed short duration discussion on the ongoing violence in West Bank and Gaza, saying it could impact India's diplomatic ties with Israel and Palestine, both friendly countries.

Minister of External Affairs Sushma Swaraj informed the Upper House shortly before the discussion was to begin that, "We have diplomatic ties with both nations. Any discourteous reference to any friendly country can impact our relations with them."

The Opposition locked horns with the government over whether to hold the debate and the Upper House had to be adjourned thrice.

When Zero Hour began, Deputy Chairman P J Kurien called Ali Anwar Ansari of the Janata Dal-United for a zero hour mention, saying it was listed in the business.

But Swaraj refused to discuss the issue, saying she came to know about the list of business this morning and had come to the House out of respect for the chairman who had listed it in the business. But, she said, she was not consulted.

"I have written a letter to the chairman as it was neither admissible under rules nor desirable. Let us wait for the decision of the chairman. I will abide by that," Swaraj said, seeking directions from the chair.

Angry opposition members protested that the list of business was the property of the House and not discussing a listed issue would tantamount to disrespect of the House.

The government refused to pass a resolution condemning actions by Israel in the Lok Sabha.
Image: Students organisations protest against the attacks in Gaza, in front of Israeli embassy in New Delhi. Photograph: PTI photo