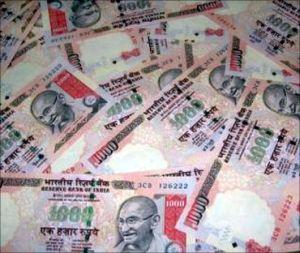 Uproar marked the first working day of Parliament on Tuesday with Opposition alleging that nothing had been done to implement Bharatiya Janata Party's poll promise of getting back black money in 100 days and forcing the government to agree to a debate on the issue on Wednesday.
Both Lok Sabha and Rajya Sabha witnessed uproar and the Lower House had to be adjourned briefly as the opposition sought to corner the government over the issue, which was a major poll plank of BJP.
"100 days are over, where is the black money?" chanted members of Trinamool Congress, Congress, Rashtriya Janata Dal, Samajwadi Party and AAP, who stormed the Well of the Lok Sabha, minutes after it assembled for the day.
Chanting "bring back black money" and displaying black umbrellas, the members said the government had promised to get back black money stashed abroad within 100 days of coming to power but had failed to do so.
The House had to be adjourned for 40 minutes but uproar continued when it re-assembled at noon for Zero Hour.
The Rajya Sabha also saw uproarious scenes over the issue, with members from the Janata Dal-United, Samajwadi Party and TMC on their feet when the House assembled for the day.
They kept shouting slogans and waving papers attacking the government on the black money issue.
By the evening, government sources said a discussion on the issue could be taken up on Wednesday.
Earlier, in the face of uproar, government said in both the Houses that it was ready for a debate on the issue. While Finance Minister Arun Jaitley gave the assurance in Rajya Sabha, Parliamentary Affairs Minister M Venkaiah Naidu gave the promise in Lok Sabha.
Tuesday was the first working day of the Winter Session as both Houses were adjourned on Monday as a mark of tribute to some MPs.
Derek O'Brien (TMC) raised the issue in Rajya Sabha after lunch saying, "The government has made some assurances outside the House on bringing back black money. But no black money has come...There was a lot of hope on this issue, but the government is not delivering. There has to be some structured discussion on this issue. This is not about one or two political parties but all the parties."
Responding to this, Jaitley said the member raised an important issue and the government is "too willing to discuss the issue" whenever the parties want in consultation with the Chairman.
In Lok Sabha, the Speaker pleaded with the agitating members to go back to their seats, even assuring them that she would try for an early debate on the issue in consultation with various political parties. But, her pleas went unheeded.
Parliamentary Affairs Minister M Venkaiah Naidu said the government had nothing to hide and was ready to discuss the issue. He said the government has done a lot in the last six months on the black money issue.