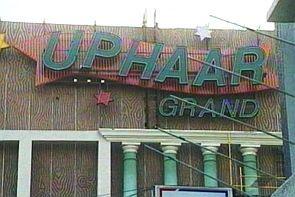 The Supreme Court expressed displeasure over real estate baron and convict in Uphaar fire tragedy case Sushil Ansal leaving the country without taking its permission.
A bench headed by Chief Justice P Sathasivam said the case is pending in the Supreme Court and he should not have left the country without its permission.
"Our grievance is that they (Ansal and his lawyers) know the matter is still pending and he did not take the apex court in confidence before leaving the country," the bench said.
The bench, however, allowed Ansal to stay in the US for medical treatment after senior advocate Ram Jethmalani, appearing for Ansal, gave an assurance that he will return on April 11.
The bench said Ansal's counsel should have advised him to take permission from the apex court before going abroad.
The bench was hearing an application filed by the Association of Victims of Uphaar Fire Tragedy seeking to restrict the right of Sushil Ansal to travel abroad on medical grounds without its permission.
AVUT submitted that Sushil Ansal had on March 24 sought permission of the trial court for personal exemption to appear in a case of alleged tampering of evidence arising out of the main case of Uphaar fire tragedy.
He has sought permission to travel to USA for undergoing treatment of Hepatitis C, it said.
The Association contended that since Ansals have been convicted by the apex court, they cannot leave the country without the permission of the top court.
Further, it sought imposition of suitable conditions on the bail enjoyed by Ansals as no conditions were stipulated when they were granted bail on January 30, 2009.
The apex court on March 5, held Ansals guilty in the 1997 tragedy, saying they were more interested about making money than ensuring safety of the cine goers.
The court had upheld the conviction of Sushil and Gopal Ansal for the tragedy that claimed the lives of 59 people. Justices T S Thakur and Gyan Sudha Misra, however, had disagreed over the quantum of punishment to be given to them and the issue has been referred to a three-judge bench to pronounce a final verdict on it.
While Justice Thakur retained one-year jail term of Sushil and Gopal Ansal as imposed by the Delhi high court, Justice Misra reduced the jail term to already undergone by Sushil considering his age but enhanced the sentence of Gopal to two years.
Justice Misra also imposed a fine of Rs 100 crore on the Ansal brothers to be used for construction of a trauma centre and super-speciality hospital.
The bench, however, was concurrent in its finding that there was contemptuous disregard of civic laws on the part of Ansals that led to the tragedy as they were more interested in making money than ensuring safety of people.
The bench passed the order on cross appeals filed by CBI, AVUT and Ansals challenging the Delhi high court order.
Image: Uphaar cinema where a fire in 1997 claimed 59 lives