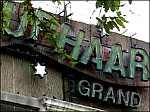 Promoter of the Ansal Group, Sushil Ansal on Thursday apologised in the Supreme Court to the families of the victims of Uphaar tragedy in which 59 cinema-goers were killed in a blaze in 1997.
When a bench comprising Justices T S Thakur and Gyan Sudha Mishra was hearing a matter related to the case, Ansal stood up and apologised with folded hands for the loss of lives.
Ansal accepted that wrong was done, saying he understood the pain and suffering undergone by the families of the victims. He said even his family had suffered because of the tragedy.
After Ansal's statement, the bench wanted to know from Neelam Krishnamurthy of the Association of Victims of Uphaar Tragedy what she had to say about the statement. She said this is for the first time in 15 years that Ansals have apologised for the incident.
She said in the past she had received threats and intimidation for pursuing the case and the accused also indulged in tampering with the evidences.
The court was hearing with petitions filed by the Ansals, AVUT and the Central Bureau of Investigation relating to the Uphaar fire tragedy.