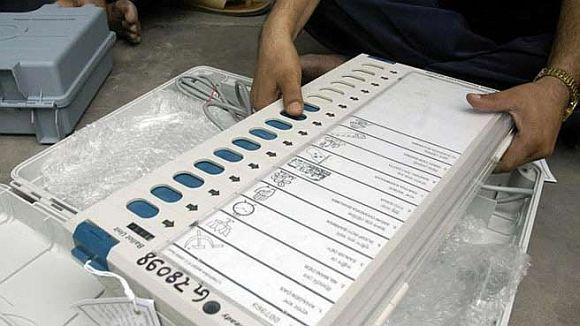 They might have lost their kingdom, but the urge to rule still seems to dog them, as a number of royals have thrown their hat in the ring in the high-voltage Uttar Pradesh assembly elections.
In Rampur, sitting MLA Nawab Kazim Ali of Nawab family is once again in the fray to ensure his fifth consecutive victory from Swar seat, where he is being challenged by Samajwadi Party leader Azam Khan's son Abdullah Azam, a debutante.
This time Ali is contesting from a different party, the Bahujan Samaj Party. The majestic Noor Mahal, where he resides, used to be the centre of activity for the Congress in the days gone by.
Ali's father Nawab Julfikar Ali Khan and mother Noor Bano have represented Rampur in Lok Sabha.
In Agra, Bhadawar dynasty's Rani Pakchhalika Singh, who lost 2012 polls from Khariagarh seat on SP ticket, is again contesting from the same seat on BJP ticket.
Her father-in-law Mahendra Ripu Daman Singh has represented Bah assembly constituency four times while son and Pakchhalik's husband Raja Mahendra Aridaman Singh is the sitting MLA. Aridaman, who was a minister in Akhilesh Yadav cabinet but was later sacked, joined the BJP recently.
Pratapgarh's Kunda constituency always remains in news due to Raghuraraj Pratap Singh alias Raja Bhaiya of Bhadri dynasty.
He is again in fray from the same seat as an independent candidate and is looking forward to a double hat-trick of his victory as an independent.
Raja Bhaiya has been a minister in the governments of Kalyan Singh, Ram Prakash Gupta, Rajnath Singh and Mulayam Singh Yadav in the past. He is now in Akhilesh Yadav cabinet.
Former MLA, Bargadikot dynasty's Kunwar Ajay Pratap Singh alias Lalla Bhaiya is in fray from Colonelganj seat of Gonda on BJP ticket.
Singh has been a five-time MLA. His sister Kunwari Brij Singh had contested 2012 polls on BSP ticket from the same seat but could not win.
Another royal Mayankeshwar Sharan Singh is in fray from Raebareli's Tiloi seat on BJP ticket. He has been an MLA thrice but lost previous polls on SP ticket.
In Allahabad, Baraon dynasty's Ujjwal Raman Singh is contesting on SP ticket from Karchhana seat. His father Reoti Raman Singh is a senior SP leader and sitting Rajya Sabha member.
Reoti won the seat six times and after winning Lok Sabha polls in 2004, he left the seat for his son, who also won the elections but he could not taste success in past two assembly polls in 2007 and 2012 respectively.
In eastern UP, Kunwar Shivendra Singh of Siswan dynasty is contesting on SP ticket from Siswan seat of Maharajganj district.
Amethi is also going to witness 'rani versus rani' battle with Congress MP Sanjay Singh's wife Amita Singh is likely to take on his first wife Garima Singh, who is contesting on BJP ticket.
The BJP has fielded Garima, ostensibly to reap sympathy for her and redeem her name and position in the royal family.
The Samajwadi Party, which got a seat under a sharing arrangement with the Congress, gave ticket to sitting MLA and controversial leader Gayatri Prajapati in the Congress bastion, leaving Amita in the lurch.
Amita, however, is in no mood to relent and has let it known to her party leadership that she has worked hard for so long and will not quit the fray.
"Amethi is my family and my home and I cannot leave it... I will contest from here," she said, adding that she had been working hard among the electorate since long and was on a very strong footing.
Amita has minced no words in condemning BJP for fielding Garima, 60, who will be making her first political venture in the assembly polls.
Garima was in news when she returned to the family's Bhupati Bhawan palace in Amethi in July, 2014 along with her son Anant Vikram and daughters Mahima and Shaivya, and camped in one portion of the palace for days.
She had also got involved in a bitter battle for control over the family fortunes against Sanjay and his second wife Amita.
Garima happens to be the niece of former Prime Minister VP Singh and is a descendant of the royal family of Daiya and enjoys fair amount of support among locals despite her prolonged absence.
© Copyright 2022 PTI. All rights reserved. Republication or redistribution of PTI content, including by framing or similar means, is expressly prohibited without the prior written consent.