Demonetisation was aimed at removing black money and corruption, but undisclosed income keeps being unearthed from various parts of the country.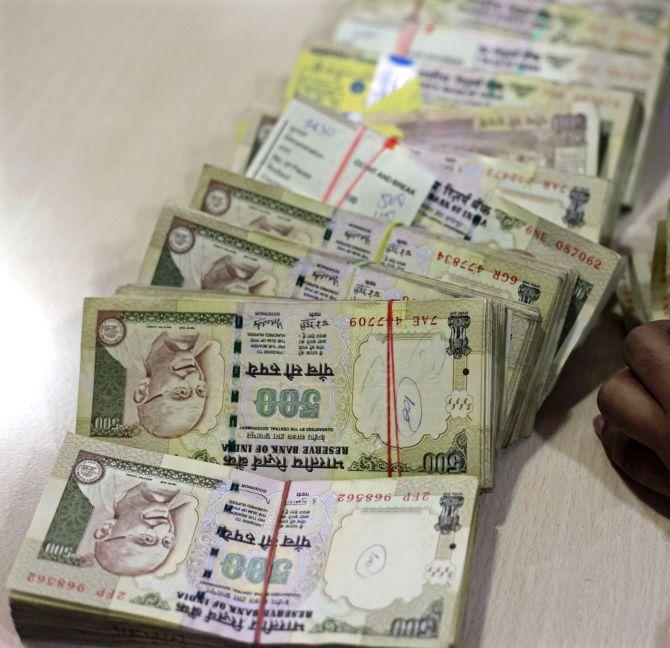 Gujarat
The Income Tax department on Thursday said it had carried out at least 43 search and survey operations across Gujarat post-demonetisation and unearthed undisclosed income as well as assets worth Rs 73.09 crore, including new currency of Rs 3.53 crore.
According to Director General of Investigations, I-T, Gujarat, P C Mody, as many as 30 searches and 13 surveys were carried out in different parts of the state after the Centre scrapped high value currency notes on November 8.
"During our searches we have seized cash as well as assets worth Rs 22.93 crore, including Rs 3.53 crore in new currency. During our survey operations, people have admitted of an unaccounted income of Rs 50.16 crore," said Mody at press conference.
The senior I-T official also informed the reporters that the department on Thursday visited Memnagar branch of a private bank to verify information related to transactions being done using dummy accounts.
Assam
In Nagaon, Assam, the Income Tax Department recovered at least Rs 2.3 crore cash in new currency notes from a local businessman.
According to officials, I-T sleuths raided the house and business entity of Amulya Das, owner of Mahim Enterprises in Nagaon town on Thursday afternoon.
"The counting is not yet over. So far Rs 2.3 crore have been recovered. All the cash are in new notes of Rs 2,000 and Rs 500. The amount may increase further," an official said.
When contacted, Nagaon Superintendent of Police Debaraj Upadhaya confirmed the development.
It was learnt that Das was in the business of gutkha and pan masala even though they are banned.
Madhya Pradesh
An amount of Rs one crore or more has been deposited in 400 bank accounts of people in Madhya Pradesh and Chhattisgarh post-demonetisation, a senior I-T official said.
"An amount of Rs one crore or more -- in some cases even Rs 4 crore or Rs 5 crore have been deposited in 400 bank accounts of people in MP and Chhattisgarh, post-demonetisation," Abrar Ahmed, Principal Chief Commissioner of I-T for the two states told reporters here.
West Bengal
The Enforcement Directorate has arrested a Kolkata-based businessman for alleged illegal conversion of over Rs 25 crore in old currency into new notes as part of its money laundering probe in two high-profile black money cases in the wake of demonetisation.
Officials identified the businessman as Paras Mal Lodha and said he was involved in a "deep-rooted conspiracy" in this case and that he was charging a commission "at the rate of 15-20 per cent" to convert the money.
Lodha, 62, was arrested by the agency late Wednesday in "connection with the recovery of large amount in new currency notes from a company belonging to Advocate Rohit Tandon of T and T law firm (in Delhi) and J Shekhar Reddy of Chennai".
He was brought to Delhi after the ED "intercepted and detained" him at the Mumbai airport when he was about to take a flight to Malaysia.
© Copyright 2021 PTI. All rights reserved. Republication or redistribution of PTI content, including by framing or similar means, is expressly prohibited without the prior written consent.