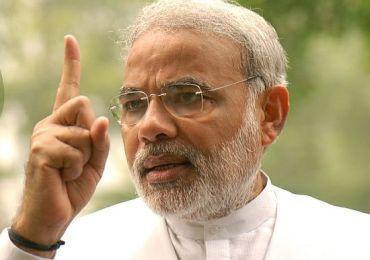 Gujarat Chief Minister Narendra Modi on Sunday accused the Congress-led United Progressive Alliance government of making false promises to youths of providing them jobs.
"See the Congress manifesto, it says we will give jobs to people from each family. In 2009, they said one crore jobs will be given. Has it happened?," Modi asked a gathering, while addressing the Swami Vivekanand Youth Convention in Patan.
"Why are they cheating youths like this? If someone cheats, we can't forgive him like that. It is not our nature to cheat," he said.
Modi was reacting to state Congress unit's announcement that they would provide jobs to 10 lakh youths in the state, if voted to power.
The elections in Gujarat are slated to be held later this year.
"The government in Delhi is cheating the youths of Gujarat, while we are bringing industrial development in the state," the chief minister said.
"As per GoI survey estimates, 72 percent of jobs created in India are coming from Gujarat," Modi said, asserting his viewpoint.
"Please don't have expectations from Delhi," Modi advised the gathering.
"Over 3.5 lakh people have got jobs in last one decade rule of Gujarat government. One lakh more will get jobs," he said.
If any youth wishes to start his own venture, the Gujarat government will back as guarantor for their banks loans, if they seek so, Modi announced.
"These are not small decisions. It's not my courage but the faith I have in you. My youngsters would not do wrong I know," Modi said stressing that his government had full faith in the state's youth force.
Image: Gujarat CM Narendra Modi