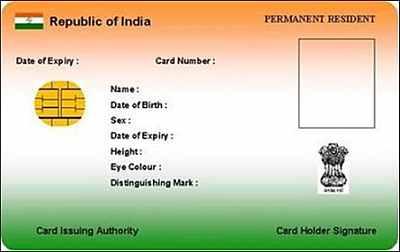 Union Cabinet ministers were confused about AADHAR when they met on Thursday. A startling report.
Believe it or not, Prime Minister Manmohan Singh's Cabinet is unable to arrive at a consensus on the exact identity of AADHAAR -- the Unique Identification Number, UID.
Union Finance Minister P Chidambaram thinks it is 'just a number'. He is correct. But Union Agriculture Minister Sharad Pawar, Railway Minister Pawan Bansal and other ministers say: 'It is a card.'
The Union Cabinet met on Thursday and, reportedly, displayed a sensational lack of knowledge about its own ideas, plans and its execution. The question was, probably, worth Rs 5,500 crore/Rs 55 billion.
When the Cabinet met on the issue of harmonising the AADHAAR and National Population Register exercise and the need for a Resident Identity Card, an unbelievable situation arose.
The country's most powerful people, sitting on both sides of Dr Singh, at the high table of power, could not decide if AADHAAR is a card or merely a number and as a result the Cabinet could not approve the budget needed to take the issue further.
During the debate on the pros and cons of a resident ID card in the Cabinet, even Dr Singh was moved to ask, "Do we really need it?"
So much confusion arose among the mighty men that the Union Cabinet had to send the issue to a Group of Ministers to sort it out.
It was surprising for many present to see that a cerebral political entity and a trained lawyer like Chidambaram did not know that many of his colleagues have gone through the biometric exercise and received a card that they call Aadhaar.Chidambaram was, reportedly, taken by surprise when so many ministers told him that they had got 'the card.'
He insisted that AADHAAR is merely a number and not an ID card, says a source privy to the discussions.
At one point, Rural Development Minister Jairam Ramesh butted in to say that there was no need of a 'card' to establish a resident of India's identity because citizens can store the 'identify number' on their mobile telephones.
Petroleum Minister M Veerappa Moily was provoked by Ramesh's remark. He told Ramesh that he (Moily) is unable to handle his own mobile phone so how could he expects villagers to use mobile phones to show their identification numbers. Ramesh meekly quoted the millions of mobile connections in use in India.
The wise men of India are confused because the brand name of the Unique Identification Number project is Aadhaar. At same time the government has initiated the creation of the National Population Register by collecting specific information from all residents in the country during the house listing and housing census phase of Census 2011 from April 2010 to September 2010, according to the NPR Web site.
NPR data is handdled by the Union home ministry; AADHHAR is handled by a specially created body under the Planning Commission. It is headed by Infosys co-founder Nandan Nilekani.
The turf war between the NPR and AADHHAR is compounding confusion at the highest level.
Gopal Krishna, a member of the Citizens Forum for Civil Liberties, who gave testimony before the parliamentary standing committee on finance that rejected the UID Bill, says, "It is not surprising that the Cabinet ministers are confused. The Aadhaar advertisement in Imphal has shown that it is a card, although it is not. The UID Authority of India has been misleading citizens."
"Chidambaram is right in this case," Gopal Krishna adds. "What appears as a card is deceptive because only the 12-digit number printed on the so-called card is of relevance. It is this 12-digit number which is part of the UID/Aadhaar central database that acts an identifier, and not as an identity card."