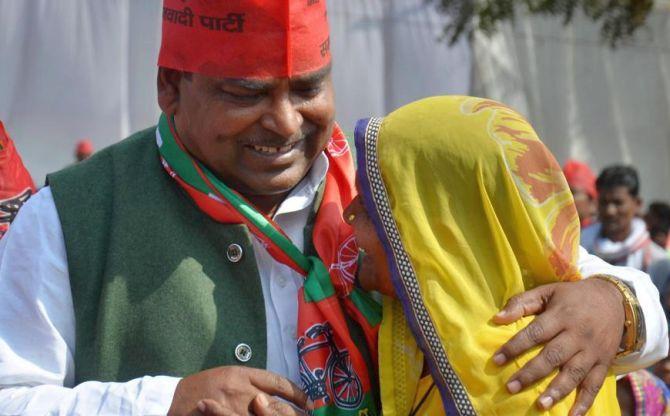 Uttar Pradesh Governor Ram Naik on Sunday shot a letter to Chief Minister Akhilesh Yadav, seeking clarification on whether he "justifies" it to "retain" the tainted minister Gayatri Prajapati in his cabinet.
"A non-bailable warrant has been issued against Prajapati after an FIR was registered against him in rape case. Serious question of constitutional morality and dignity arise on his remaining in the cabinet", governor said in a letter to CM seeking his "justification on retaining the minister".
Naik said that as per media reports, a look out notice has been issued against Prajapati fearing that he might flee from the country and his passport has also been impounded.
"This is serious in nature with Prajapati being a cabinet minister", he added.
He said, it has also come to his notice that CM himself has asked the minister to surrender but he has not done so till now and is absconding. There are apprehensions that he might have fled to some foreign country, he said.
The police is searching for the minister and trying to arrest him, the governor said in his letter.
On Saturday, the passport of Prajapati, who is a senior UP government minister was impounded and a look-out notice was issued against him, hours after Prime Minister Narendra Modi accused SP-Congress of chanting "Gayatri Prajapati Mantra".
On the directives of the Supreme Court, UP Police has filed an FIR against Prajapati, a senior SP leader, in connection with separate cases of gang rape and attempt to rape another woman and her minor daughter.
Image: UP minister Gayatri Prajapati meets a supporter in Amethi during a rally. Photograph: PTI Photo
© Copyright 2023 PTI. All rights reserved. Republication or redistribution of PTI content, including by framing or similar means, is expressly prohibited without the prior written consent.