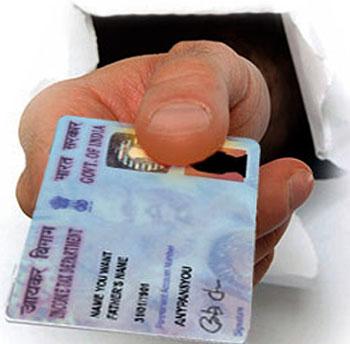 The government will soon launch a facility under which a Permanent Account Number card will be issued within 48 hours of applying.
"An online facility for issuance of PAN is on the anvil under which an applicant can get a PAN card within 48 hours," a senior official said.
Besides, special camps will be organised throughout the country, including rural areas, to help people get PAN cards.
PAN is a 10-digit alphanumeric number, issued in the form of a laminated card by the Income Tax Department.
Recently, the Central Board of Direct Taxes, the apex policy-making body of the IT Department, had issued a notification making the Elector's Photo Identity Card and Aadhaar valid proofs of "date of birth" for obtaining a PAN card.
PAN is required for filing return of income, sale or purchase of any immovable property beyond a certain amount, and sale or purchase of a motor vehicle, among others.
The Finance Act 2015 proposes quoting PAN mandatory for buying jewellery valued at Rs 1 lakh or more.
The official further said a total Rs 4.73 crore tax returns were filed in 2014-15, of which only Rs 6 lakh were scrutinised by the Income-Tax Department. `