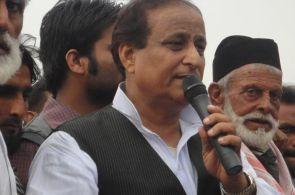 Uttar Pradesh Minister Azam Khan, who is accompanying Chief Minister Akhilesh Uadav for a HarvardUniversity event in the US, was detained briefly for questioning at BostonInternational Airport.
According to sources familiar with the incident, Khan was detained for about 10 minutes for "further questioning" at BostonLoganInternationalAirport on Wednesday after he landed in a scheduled British Airways flight from India.
The state urban development minister is in the US along with Yadav to attend a symposium on South Asia at HarvardUniversity in Cambridge, Massachusetts, where they presented a study on the world famous "Kumbh Mela" held at Allahabad.
The sources said that when the visiting team landed at the airport, the Immigration and Border Protection officials accorded due courtesy and respect at the arrival point and even helped them in filling the arrival forms for entry into the US.
They were received and escorted by the officials of the Consulate General of India in New York and after they were cleared for entry, a woman officer of the US Customs and Border Protection wing of the Homeland Security took Khan to an adjacent room "for further questioning."
The extended interview lasted for ten minutes and the minister was then cleared.
Incensed, Khan is reported to have kicked up a ruckus at the immigration area saying he was detained because he was a Muslim and sought an apology from the officer who merely said she was doing her duty.
At one point, the arguments became loud and the woman officer threatened to file a complaint to restrain him from abusing her for discharging her duties as per the manual of the Department of Homeland Security.
She tried to explain to the minister that additional interviews or questioning should not be construed as an insult or suspicion in view of the security threats and guidelines on entry of visitors to the US but the minister raised his voice and demanded an apology.
Higher officials intervened and Khan was escorted out of the airport.
The visiting team is due to return to New York on Friday evening after their engagements and scheduled to leave for India on Saturday on a scheduled British Airways flight.
There have been cases of Indian VIPs being detained at airports in the US on previous occasions.
Last year, Bollywood actor Shah Rukh Khan had been detained for over two hours by immigration officials at a New York airport.
Former President AP J Abdul Kalam was twice subjected to frisking at New York's JFKAirport by US security officials who even took his jacket and shoes to check for explosives.
India's former ambassador to the US Meera Shanker was pulled from an airport security line and patted down by a security agent in Mississippi in December 2010.
© Copyright 2023 PTI. All rights reserved. Republication or redistribution of PTI content, including by framing or similar means, is expressly prohibited without the prior written consent.