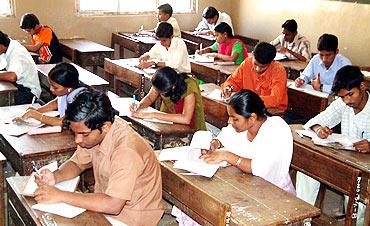 The entrance examination to the MBBS course in medical colleges of Uttar Pradesh was cancelled on Sunday following leakage of the papers in Ghaziabad. The papers were allegedly leaked out from two nationalized banks where the papers were kept in the safe deposit vault (strong room).
First information reports have Ben registered against the concerned branch of State Bank of India as well as Allahabad Bank where the question papers were kept for safe custody.
While no arrests have been made so far, Chief Minister Akhilesh Yadav has asked chief secretary to constitute a high level committee to probe the leak.
"The guilty will be brought to book at all coats"" he said in a statement. Controller of Examination A K Singh of King George"s MedicalUniversity -- the institution entrusted with the all important entrance examination said, "We have taken a decision to hold fresh examination in July."
According to him, "The decision to scrap the s. examination was taken after it was discovered that even the stand-by question paper kept in a different bank vault was tampered with. Both the original and the stand-by papers were kept inside locked and sealed steel trunks."
Involvement of admission mafia led by influential coaching institutes is not ruled out in the case . As many as 1.09 lakh aspirants were taking the examination for admission to 1,300 MBBS seats in nine medical colleges of the state. The examination was being held simultaneously at 213 centers spread across the state.
Image for representation only