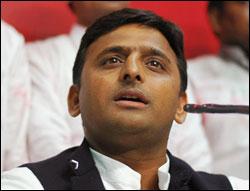 The Uttar Pradesh government will fully cooperate with the investigation into the killing of a police officer and village head in Kunda in the district for which it has recommended a Central Bureau of Investigation probe, Chief Minister Akhilesh Yadav said on Wednesday.
Visiting the family of the slain village head Nanhe Yadav, he described the killings as 'very tragic' and said that 'things would be clear only after completion of the CBI inquiry'.
The UP police had on Tuesday virtually ruled out immediate arrest of Raghuraj Pratap Singh alias Raja Bhaiya booked in the murder of Deputy Superintendent of police Zia-ul-Haq and said it needs to be established first who committed the crime before the conspiracy angle can be probed.
The police also said that the post-mortem report of the DSP, circle officer of Kunda in Pratapgarh district from where Raja Bhaiya is a five-time Independent member of Legislative Assembly , has shown only one bullet injury and the bullet is untraceable.
"Action would be taken against those policemen who fled 0away from the scene....those who showed weakness. Action would be taken against those found guilty," the chief minister told reporters in Pratapgarh.
He said all demands made by the wife of the DSP Parveen Azad with regard to the investigation have been accepted by the state government.
"The demand for a CBI inquiry was accepted without any delay. We have also given a compensation of Rs 20 lakh each to the families of the two victims. We have assured the families that the government is with them. Government will fully cooperate with the investigation," Yadav said.
On Raja Bhaiya being booked in the case, UP Minister Azam Khan, who accompanied the chief minister, said, "I am not the one to decide. I am not the court. I had stated in the state assembly that it was for the court of law to decide about who is guilty."
Additional Director General (Law and Order) Arun Kumar had said on Tuesday that the state government has sent a letter to the Centre in connection with the CBI inquiry into the Pratapgarh incident.
Fourt-four-year-old Raja Bhaiya, who has been booked under Section 120B of the Indian Penal Code (criminal conspiracy), on Monday resigned from the state cabinet.