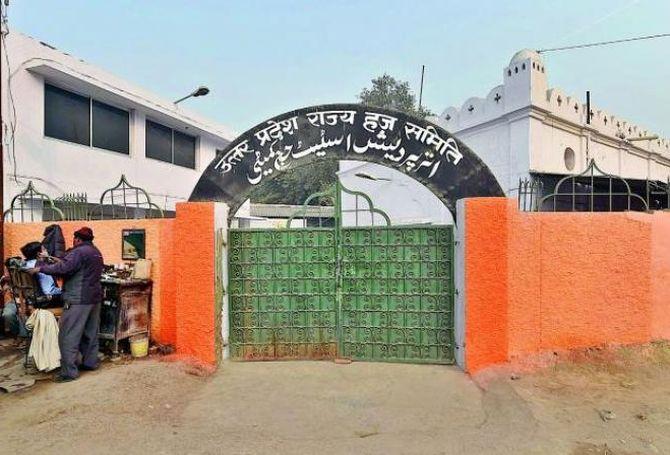 The Yogi Adityanath government on Tuesday removed R P Singh from the post of Uttar Pradesh Haj Committee secretary following the controversy over the saffron paint on Haj office boundary wall.
The government had earlier issued a notice to Singh, seeking an explanation on whose ordered its office boundary wall to be painted saffron and why it was subsequently repainted.
"RP Singh, who is joint director in the minority welfare directorate, has been removed from his additional post of secretary, UP Haj Committee, with immediate effect," an office order issued by Principal Secretary (Minority Affairs) Monika S Garg said.
Vineet Srivastav, an assistant director in the minority welfare directorate, will take charge as secretary, UP Haj Committee, the order added.
UP's minister of state for Muslim Waqf and Haj, Mohsin Raza had earlier directed his department's principal secretary to get a clarification from Singh on the circumstances of the painting and repainting of the wall, which he said were not clear.
Raza said the media has raised a number of queries about the incident. A seven-point notice was issued to the UP Haj committee's secretary.
The notice sought clarifications on the rules under which the maintenance and painting work of Haj committee office was done. It also sought to know on whose orders the boundary wall was painted for the first time.
"When a saffron coat was already given, then under which circumstances there was a need to change the colour, and on whose orders was the colour changed?" the notice said.
"Who is responsible for the second coat of paint, and who will bear the cost for the second coat of paint," it asked.
The notice also sought details of the tender floated for the painting and the companies involved.
The minister, in the notice, also sought to know why the UP Haj Committee secretary issued a press release, and on whose orders, regarding the paint job.
"Whether any written orders were issued to the contractor? According to the press release, action was to be initiated against the contractor. Hence, what action has been initiated against the contractor," Raza asked in the notice.
The minister also sought to know on which date the secretary of Haj committee inspect the office wall.
Photograph: PTI Photo
© Copyright 2019 PTI. All rights reserved. Republication or redistribution of PTI content, including by framing or similar means, is expressly prohibited without the prior written consent.