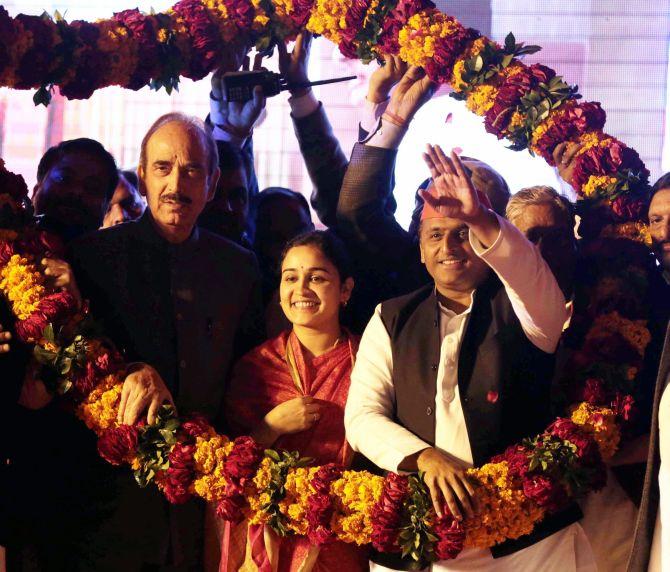 Ruling Samajwadi Party is facing a tough battle as it tries to retain the seven assembly seats it had won last time out of nine in Uttar Pradesh capital, while the Bharatiya Janata Party and the Bahujan Samaj Party queer the pitch.
The two other seats were shared by the BJP and the Congress.
The SP candidates include Mulayam Singh Yadav's daughter-in-law Aparna Yadav and three ministers, one of whom was recently sacked.
The BJP has preferred to field turncoats on two seats -- Lucknow Central and Lucknow Cantt.
Rita Bahuguna Joshi, who had won on a Congress ticket last time, has been fielded by the BJP from Cantt seat against Aparna.
The BSP has fielded Yogesh Dixit, who is trying to woo voters by promising good governance by party supremo Mayawati.
Lucknow Central is also witnessing a keen contest, where sitting SP MLA and cabinet minister Ravidas Mehrotra is facing an uphill task with Congress candidate Maroof Khan refusing to withdraw from the field despite a tie-up between the two parties.
The BJP has given ticket to former MP Brijesh Pathak, a former Lucknow University Student Union president, who switched from the BSP.
The BSP has given ticket to Rajiv Srivastava here.
An interesting contest is on in Sarojini Nagar seat, where the BJP's woman face and state women's wing chief Swati Singh is in fray. The BJP has never won the seat.
However, this time the situation for SP is difficult with its MLA Sharda Prasad Shukla contesting on a Rashtriya Lok Dal ticket after being spurned by the party.
The SP has given ticket to Anurag Yadav, cousin of SP chief Akhilesh Yadav, the BSP has fielded Shiv Shankar Singh alias Shankari, while BJP rebel Rudra Daman Singh alias Babloo is also in the fray on Shiv Sena ticket.
Babloo was runners up on the seat in 2012 polls and secured 41,333 votes, much more than BJP candidate Virendra Tiwari, who got only 29,339 votes and finished third.
Lucknow North is witnessing a contest between state minister and SP candidate Abhishek Mishra and the BJP's Neeraj Bora, while the BSP has fielded former National Students Union of India leader Ajay Srivastava this time, making it a three-cornered fight.
The constituency comprises city area considered stronghold of the BJP and in the 2012 polls BJP's Bora lost by a narrow margin of 2,219 votes to Mishra.
Lucknow East seat was won by BJP's Kalraj Mishra in 2012 but after he won Lok Sabha polls in 2014, the seat was given to BJP leader Lalji Tondon's son Ashutosh Tondon, who is again in fray.
He is being challenged by Congress candidate Anurag Bhadauri, while BSP's Saroj Shukla is also in the fray.
In Malihabad, BJP MP Kaushal Kishore's wife Jai Devi is contesting against SP's Rajbala as sitting MLA Indal Kumar was not given ticket.
In Bakshi Ka Talab, BJP's Avinash Trivedi and former minister Nakul Dubey (BSP) are testing their popularity with SP's sitting MLA Gomti Yadav facing a triangular contest.
In Mohanlalganj, the SP has given ticket to Ambrish Pushkar, while sitting SP MLA Chandra Rawat, after being denied ticket, is contesting on Rashtriya Shahri Vikas Party this time.
The BSP has given ticket to former IAS Ram Bahadur, while the BJP has left the seat for Independent candidate R K Chowdhury, a former BSP leader.
In Lucknow West comprising old city areas, sitting SP MLA Mohd Rehan seems to be in a direct fight with BJP's Suresh Srivastava, a former MLA.
There are approximately 35 lakh people in Lucknow who are eligible to cast votes on February 19. Lucknow has a significant population of Muslims, who constitute nearly 20 per cent of its total electorate.
IMAGE: From right, Uttar Pradesh Chief Minister Akhilesh Yadav, SP candidate Aparna Yadav, and UP Congress in-charge Ghulam Nabi Azad at an election rally in Lucknow. Photograph: PTI Photo