Taking a dig at Chief Minister Akhilesh Yadav's "kaam bolta hai" slogan, Prime Minister Narendra Modi on Saturday said it was the SP leader's "karnama" (misdeed) which spoke for him.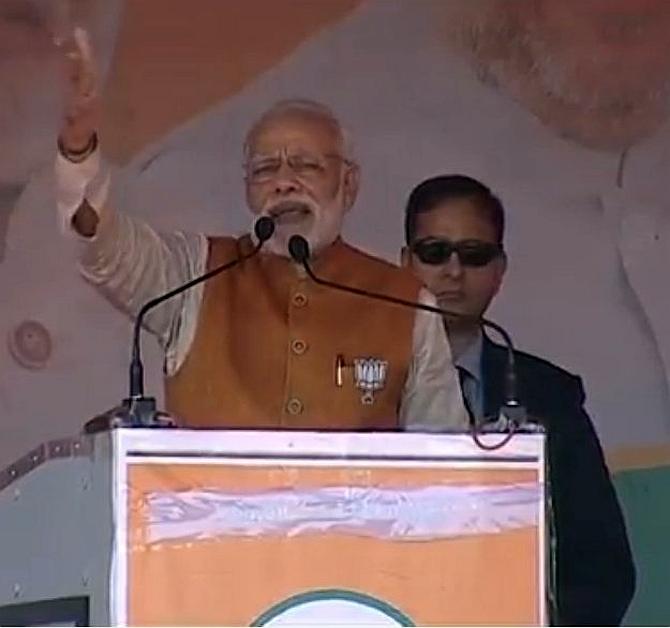 Modi, who has stepped up his attack on Akhilesh in recent days, also said that the chief minister is to be blamed if people of the state which he ruled for five years do not see 'achche din'.
"Akhileshji says 'kaam bolta hai' (work speaks for itself). Even a child here knows that it is your 'karnama' (misdeed) which is speaking for you," Modi told an election rally in Badaun.
"Akhilesh asks whether 'achhe din' have come," Modi said referring to the SP leader's frequent jibe at Modi over his 2014 poll slogan of "achhe din' (good days).
"He is the chief minister for the past five years and if people tell him that it has not come, he is responsible... it is BSP and Congress which is responsible."
The Prime Minister, who has been targeting the SP-Congress alliance, charged that the "two families" have come together in the state to hide their failures.
"Lohia was against Congress and his disciples who followed ideals of Lohia, came forward and embraced Congress...I have no problem who you embrace, but you tell people as to what you have done for them.
"In state elections, why must the old government not give its report card... wherever they are going they have only one thing to say. Ask what Modi has said or done...this will be decided by the people in 2019... you give your account first," Modi said.
He also asked why Akhilesh "who had branded Mayawati government as corrupt" and had promised to send to jail the guilty had not acted against them.
"Officials close to Mayawati and facing serious corruption charges were given more important posts after a drama of two-three months and doors were opened for more
corruption.... What kind of officials were posted in Noida?" Modi asked.
Stressing that all the political parties opposed to each other were together on the issue of corruption, Modi said both Mayawati and Mulayam Singh Yadav had never been one of any issue but both were angry with him on his note ban decision.
"Why are they so angry with me? ...Mayawati and Mulayam Singh who were opposed to each other, came together on one issue when I waged a war on black money as they found that the ground was slipping under their feet," Modi said.
Modi alleged that there had been corruption in recruitment drives in the state in which capable and honest people were denied a chance to get jobs.
"Mothers pledge their mangalsutra and farmers pledge their field and house for the jobs of their sons... this is not Akhileshji's work but his misdeeds which result in harassment... BJP will ensure justice by ordering inquiry," he added.
"You are not giving reply to questions of people and they will give you a reply through the voting machines," he said.
"For you selfish political motives, you have trampled on the future of the youths. You have put an Aligarh lock on it," he said.
He said the central government has doe away with interview process in recruitment of Class III and Class IV jobs to end corruption.
Raising the issue of backwardness of Badaun, Modi said despite being "a VIP district" with it being BSP chief Mayawati's 'karyakshetra' and stronghold of SP's Mulayam Singh Yadav, it figured among the worst 100 districts of the country where there are no basic facilities and development.
Drawing attention of the people to a local SP MLA Abid Raza levelling allegations at the local party MP on illegal mining, Modi said had Mulayam Singh been asked about it he would have remarked "bachcha hai galti kar deta hai, kya phasi lagti hai kya (Kids do make mistakes. Will you hand them)".
Modi was apparently referring to Mulayam's remark on rape that "ladke, ladke hain… galti ho jati hai (boys will be boys... they commit mistakes)", which had sparked outrage.
The prime minister said if Akhilesh was asked the same question, he would have replied irresponsibly like, "Why ask such questions, has corruption taken place in your city?"
"Such people can never do any good for the people that is why I say it is 'karnama' which is speaking for him," he said.
Asserting that he promised to work for all sections of society the day he took oath, Modi said he has ensured development of areas which have not elected BJP nominees in Lok Sabha polls.
"Some 1,500 villages in UP did not even have an electric pole, of which 495 were in Badaun... was it not the duty of SP and BSP?
"Badaun did not elect BJP MP but the people here are mine. Mulayam Singh and Mayawati reached where they had to reach but you are still languishing where you were," Modi said.
Expressing happiness over the results of the legislative council elections, he said three seats declared on Saturday went in favour of the BJP.
"This is an indication of things to come," he said.
"In one month's time new government will be formed in the state...things have started to change with MLC results of which three have gone in favour of BJP... had BJP lost it would have been breaking news in the media," he said, adding it shows how strong the wave is in favour of the BJP.
On the issue of law and order, Modi alleged that "sisters and daughters are not safe anywhere in the state".
"Akhileshji should answer as to why he has given open support to 'goondagardi' (hooliganism)? Is the mentality of SP leaders its reason? Police stations of UP has been made such that goonda elements hold their courts there and decide who has to be harassed and who has to be set free," he said.
Modi said that when BJP comes to power, it will set up three women battalions for the safety and security of girls which will be named after Jhalkari Bai, Uda Devi and Avantibai.
Election Coverage
Uttar Pradesh ' Punjab ' Goa ' Uttarakhand ' Manipur