A girl student lost her life when two motorcycle-borne persons pulled her 'dupatta' in a molestation attempt due to which she fell off her bicycle and was run over by another motorcyclist.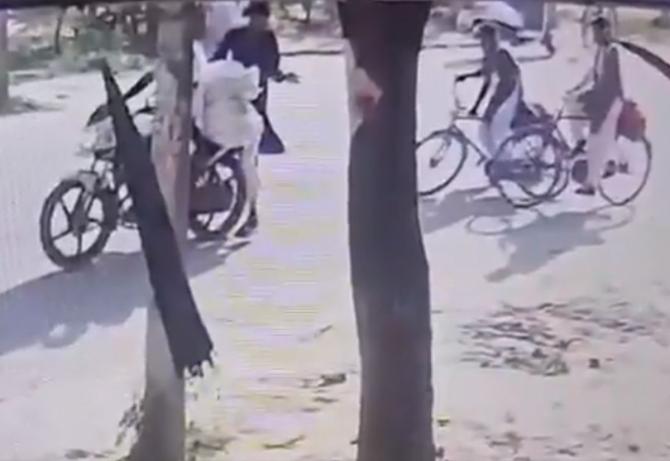 The shocking incident occurred on Friday when the victim was returning home from school. After its CCTV footage went viral, police arrested the three accused on Saturday night.
The police claimed two of the accused sustained bullet injuries while one suffered a leg fracture while trying to flee from custody on Sunday.
The Station House Officer (SHO) Haswar police station Ritesh Pandey has also been suspended for dereliction of duty in handling the case, officials said.
In the CCTV footage, the victim, who is a class 11 student, and another girl are seen moving on their bicycles when a speeding bike approaches her from behind and the pillion rider pulls her dupatta as they pass by her.
The girl falls on the ground after losing her balance and is run over by another motorist coming from behind.
The arrested accused were identified as Sehbaz and his brother Arbaz, who pulled the dupatta. The third accused, Faisal, ran over the girl. It is yet to be ascertained if there is any connection between the accused brothers and Faisal, the officials said.
Superintendent of Police of Ambedkarnagar Ajit Sinha told PTI on Sunday, "The incident occurred on Friday when the girl who was a student of class 11th was returning home from school. We first received information that the girl died in an accident."
"However on further investigation, it was found that the accident occurred when the miscreants pulled her dupatta. Following this, we lodged a case under relevant sections and arrested three accused on Saturday," added the SP.
The accused have been booked under IPC sections 302 (murder) and 354 (assault to outrage the modesty of a woman) along with relevant sections of the POCSO (Protection of Children from Sexual Offences) Act.
"The three accused were being taken to hospital for a medical examination on Sunday. The trio jumped from the vehicle. They also snatched a police rifle and fired at our team," said the SP
"In retaliatory firing, two of the accused sustained bullet injuries in their leg while the third suffered a leg fracture. The three have been admitted to hospital for medical treatment," he added.