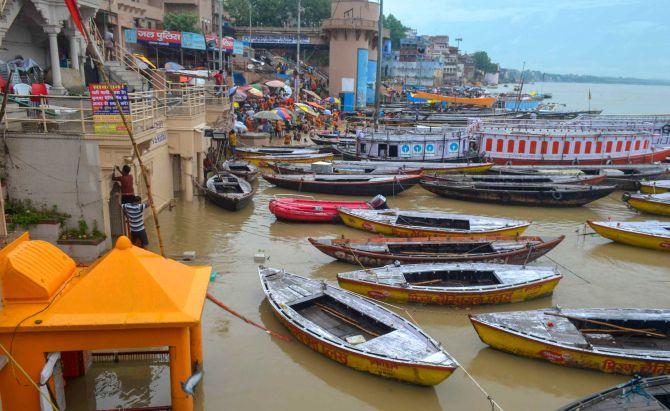 As many as 70 people have died and 77 injured in rain-related incidents in Uttar Pradesh since Thursday as heavy rains pounded different parts of the state, a senior official said on Sunday.
The maximum of 11 deaths were reported from Saharanpur, followed by other places.
"As many as 70 persons have lost their lives in rain-related incidents across the state. The number of injured persons stand at 77, while 408 houses were damaged," an official posted at the relief commissioner's office said in Lucknow.
"69 persons have been killed and 86 injured in the rain-related incidents in the state since Thursday," Relief Commissioner Sanjay Prasad had earlier told PTI in Lucknow.
Chief Minister Yogi Adityanath has directed senior officials of all districts to alert people and asked them to undertake extensive tours in the affected areas and identify dilapidated buildings and get them vacated, a government spokesperson said in Lucknow.
Adityanath has directed officials to give financial and medical assistance to people severely affected by rains.
Meanwhile, the meteorological department on Sunday said that heavy to very heavy rain is very likely at a few places with extremely heavy rain over east Uttar Pradesh on Monday, while heavy rain is very likely to occur at isolated places over west Uttar Pradesh.
Rain/thunder showers are very likely to occur at most places over east Uttar Pradesh on July 31 and at many places on August 1.