The CBI began questioning the UP lawmaker around 5 am on Friday.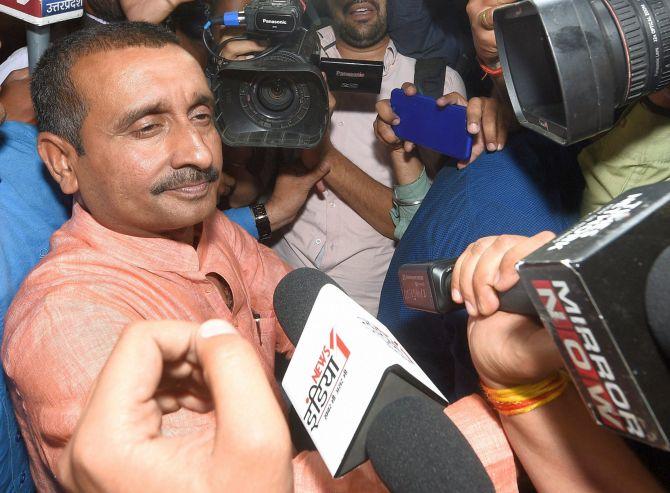 The Central Bureau of Investigation registered three separate cases in connection with the alleged rape of a minor girl by Bharatiya Janata Party MLA Kuldeep Singh Sengar in Unnao district and detained him for questioning in the early hours of Friday, officials said.
The agency has taken over investigation into the three cases referred by the Centre on the request of the Uttar Pradesh government.
The cases pertain to the alleged rape of the girl, her father's killing and a case of arms act which was slapped on her father in which he was arrested by local police.
He had subsequently died in judicial custody and the autopsy report showed serious injuries on his body.
Faced with the embarrassment of its own MLA from Bangarmau in Unnao allegedly being involved in the rape case, the state government had referred the matter to the Centre yesterday -- a day before Allahabad high court was to pronounce its order on probe into the case by the central agency.
The Centre too acted with alacrity referring the matter to the CBI on Thursday night. The agency sleuths swooped down at the residence of Sengar in Lucknow in the early hours today and took him for questioning at its office in Lucknow, the officials said.
Sengar, a four term MLA, enjoys immense clout cutting across party lines in the rural areas around Unnao district, a semi-urban area about 70 km from Lucknow.
The case came into limelight after the victim tried to immolate herself on Sunday outside Chief Minister Yogi Adityanath's residence, alleging police inaction against Sengar.
The victim's father died in judicial custody almost a week after he was reportedly thrashed by the MLA's brother and others.
A purported video of the girl's father before his death has gone viral and was also aired by several TV news channels.
In the video, he alleged that he was mercilessly beaten up, including with rifle butts, by the MLA's brother and others in the presence of police.