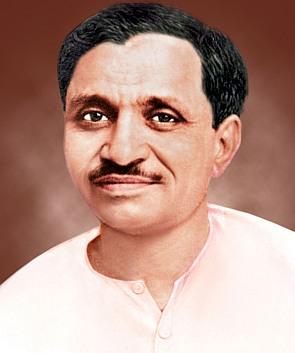 Finance Minister Arun Jaitley, during his maiden Budget speech in Parliament on Thursday, termed late Bharatiya Janata Party ideologue Deendayal Upadhyaya as his party's Rajiv Gandhi and asserted that many development schemes of his government will be named after the 'tall leader' in the years to come.

Jaitley's endorsement of Upadhyaya doesn't come as a surprise, for the latter has been the source of ideological guidance and moral inspiration for the BJP since its inception.

Here are five things you should know about him:

1. Deendayal Upadhyaya joined the Rashtriya Swayamsevak Sangh during his college days in Kanpur in 1937. There he came in contact with RSS founder Keshav Baliram Hedgewar. After college in 1942, he did not look out for a job. Instead, he attended the 40-day summer RSS camp at Nagpur to undergo training in Sangh Education. He never married.

2. When the Jana Sangh was formed in October 1951, Upadhyaya was among the first batch of Pracharaks deputed to build the new party. At the party's first national conference in Kanpur in January 1953, Dr Syama Prasad Mookerjee made him the party's all-India General Secretary. Mookerjeee was so impressed with Upadhyaya, then 37, that he remarked, "If I could get two or three more Deendayals, I will change the entire political map of India."
3. Integral Humanism, a concept founded by Upadhyaya, moved on to become the political philosophy of the BJP. The concept advocates the simultaneous and integrated programming of the body, intellect and soul of each human being. He further stated that as an independent nation, India could not depend on Western concepts like individualism, democracy, socialism, communism and capitalism. He believed that Indian intellect was getting suffocated by the Western theories and ideologies and consequently, there was a big roadblock on the growth and expansion of original Bharatiya thought. He visualised for India a decentralised polity and self-reliant economy with the village as the base.
4. During his tenure with RSS, he started a weekly Panchjanya and a daily Swadesh. He sketched the drama Chandragupta Maurya and penned the biography of Shankaracharya in Hindi. He translated the biography of RSS founder Dr Hedgewar from Marathi to Hindi. His other literary works include Samrat Chandragupta (1946), Jagatguru Sankaracharya (1947), Akhand Bharat Kyon? (1952), Bharatiya Arthniti: Vikas Ki Disha (1958), The Two Plans: Promises, Performances, Prospects (1958), Rashtra Jivan Ki Samasyayen (1960), Devaluation: A Great Fall (1966), Political Diary (1968), Rasthra Chintan, Integral Humanism, and Rashtra Jivan Ki Disha.
5. Upadhayaya was murdered on February 11, 1968 by unknown assailants while travelling in a night-train from Lucknow to Patna. His body was found near the tracks at Mughal Sarai railway station. A judicial probe, headed by Justice Y V Chandrachud, found no political angle to the murder and that it was a case of ordinary crime.

Image: Deendayal Upadhyaya