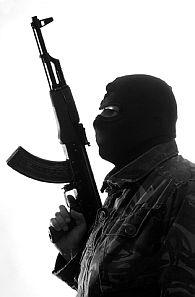 Unidentified gunmen shot dead a civilian in Nawbal Batpora village of Kulgam district. Mukhtar Ahmad/Rediff.com reports from Srinagar.
According to reports, unidentified gunmen shot dead a civilian identified as Manzoor Ahmad Palla, son of Abdul Gani Palla, resident of Nawbal Batapora village of South Kashmir's Kulgam district.
Manzoor, 38, professionally a carpenter was outside the playfield, located nearer to his residential place when unidentified gunmen wearing masks shot him dead.
He was shifted to Yaripora hospital where from he was shifted to district hospital Kulgam where doctors declared him brought dead.
"Manzoor succumbed to injuries before he could be evacuated to hospital," the officer said.
An official told Rediff.com that search operation has been launched to nab the unidentified gunmen.