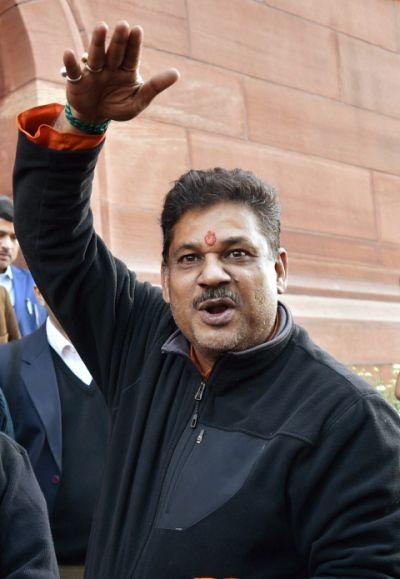 Hours after being suspended from the Bharatiya Janata Party, Lok Sabha MP and former cricketer Kirti Azad slammed the party's move, stating that he was punished for speaking the truth and highlighting corruption.
During a brief interaction with the media at the airport in Ahmedabad after his arrival this evening, Azad said he never pointed fingers at any particular individual when he spoke about corruption in the Delhi and District Cricket Association, once headed by Union Finance Minister Arun Jaitley.
Azad claimed he was just following the policy enunciated by Prime Minister Narendra Modi against corruption.
"The BJP suspended someone who was fighting against corruption. I only highlighted some issues related to corruption. I did not take any names or demanded that someone be suspended or ousted. I have not said that Arun Jaitley is a thief," said the 56-year-old MP from Darbhanga in Bihar.
"I have not said anything against the party. I even said that I support Modi and his views about corruption, where he preaches 'I will not eat and I will not allow others to eat'. That is why I highlighted the corruption going on since the last nine years (in DDCA).
"I have been talking about for the last nine years whatever is going on (in DDCA). I have been speaking about it (corruption), but nobody listened to me," claimed Azad.
"It is unfortunate that someone who is fighting against corruption, the one who speaks the truth, the one who is being harassed for these many years, has suddenly become 'anti-party' and thrown out," added Azad.
The three-time MP later left for Vadodara to attend a programme.
The BJP has charged the cricketer-turned-politician with involvement in anti-party activities and accused him of "colluding" with the Congress and the Aam Aadmi Party to bring the party into "disrepute".
The action of the BJP Parliamentary Board to suspend him from the party's primary membership with immediate effect came three days after his press conference in Delhi attacking Jaitley and subsequent acts of defiance both inside and outside Parliament.