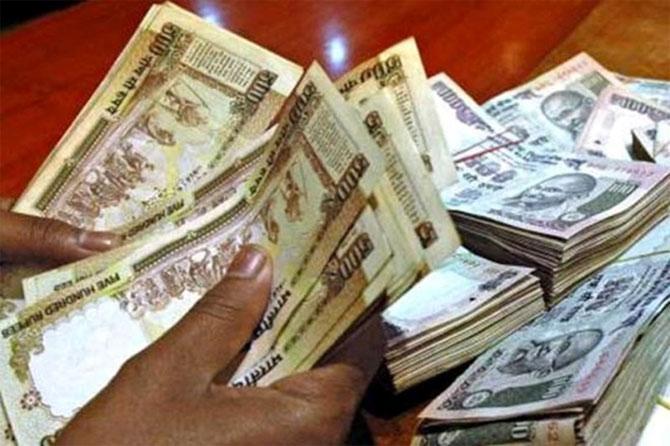 The Income Tax department on Friday said it has detected over Rs 3,651 crore of undisclosed income while more than Rs 98 crore in new notes has been seized as part of its country-wide operations against black money hoarders post demonetisation.
Official sources said the taxman has carried out a total of 785 search, survey and enquiry operations under the provisions of the Income Tax Act, across the country, since the note ban was declared on November 8, even as the department has issued 3,647 notices to various entities on charges of tax evasion and hawala-like dealings, till yesterday.
The department has seized cash and jewellery worth over Rs 522 crore, with cash being Rs 433 crore, during the same period and the new currency seized is valued at more than Rs 98 crore.
"The total undisclosed income admitted or detected as part of this action, till December 22, is more than Rs 3,651 crore," they said.
The agency has also referred over 230 cases to the Enforcement Directorate and 190 cases to the Central Bureau of Investigation in order to enable them probe other financial crimes like money laundering, disproportionate assets and corruption as part of their legal mandate.
The I-T department also said that it has detected undisclosed income of Rs 47.74 crore after surveys were conducted at half-a-dozen bullion traders and jewellers in Bengaluru following surge in their sales post demonetisation.
Officials said the operations were carried out after the investigation wing of the department here got inputs that these traders dealing in the yellow metal and precious stones recorded sales much higher than that in the same period last year.
Officials added in some cases, it was found that the sales had been 'suppressed' previous years too.
Meanwhile, the department has found that Rs 100 crore were deposited in 500 Jan Dhan accounts in the banks in western Madhya Pradesh post-demonetisation.
The department had gathered information of inconsistencies in 500 Jan Dhan accounts with collective cash deposits of over Rs 100 crore, said Prashant Jha, additional director of income tax, investigation wing, in Indore.
The department is also probing 500 other (ordinary) bank accounts which received deposits of Rs one crore or more (each) post November 8.
"We got the information about deposits of over Rs one crore or more, made after November 8 demonetisation announcement, in 350 accounts in various banks in 16 districts of western region of Madhya Pradesh," said V K Mathur, chief income tax commissioner (Indore region).
Another 150 such accounts were found in the cooperative banks, he said.
Image for representation only.
© Copyright 2021 PTI. All rights reserved. Republication or redistribution of PTI content, including by framing or similar means, is expressly prohibited without the prior written consent.