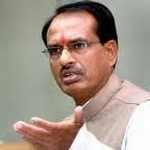 Shivraj Singh Chouhan is a man to watch. He could give Modi a run for his money on the acceptability index, writes Aditi Phadnis
The Madhya Pradesh chief minister is so low profile that few realise he could be Modi's counterweight within the Bharatiya Janata Party.
Driving through Bhopal on Christmas Eve, a bureaucrat was surprised to find Chief Minister Shivraj Singh Chouhan's home wreathed in fairy lights. "What's happening," he asked the driver. "Chief minister
saab
is hosting a Christmas party for Christians," came the reply.
Bear in mind that Madhya Pradesh is ruled by the Bharatiya Janata Party. Last year, on Eid, Chouhan went for a
padyatra
through the Muslim-dominated Shahjehanabad locality of Bhopal, going into houses and embracing men in the traditional greeting.
The previous year, he stood outside Bhopal's main mosque, throwing flower petals at people coming out after Eid
namaz
. Obviously, he is not secular, given his background in the Rashtriya Swayamsevak Sangh. But he is an admirer of Atal Bihari Vajpayee -- he was the only BJP chief minister who demanded on Vajpayee's birthday that a Bharat Ratna be conferred on the former prime minister.
The recent communal riots in Ratlam were the first after more than 10 years. Over 150 people had died in communal riots in Bhopal after the demolition of the Babri Masjid. Hence, the state has seen some tense Hindu-Muslim confrontations in the past. But Chouhan has launched a scheme for partially subsidising
teerth yatra
-- and Ajmer is as eligible a
teerth
as Kailash Mansarovar.
Chouhan is one of the BJP's most retiring chief ministers. This is the reason most people forget that he almost matches Gujarat Chief Minister Narendra Modi's record in office -- if he wins the assembly elections in Madhya Pradesh due later this year, it will be his third term as chief minister, albeit truncated because he served only half of the first one.
Madhya Pradesh has a good record in financial management with the lowest revenue deficit in the country.
Well, it lost most of its mineral wealth with the creation of Chhattisgarh, the state staggered but managed to stabilise itself because of two commodities: soyabean and wheat. Madhya Pradesh grows more than 70 per cent of India's soyabean. But what is really lucrative is the export of de-oiled soya cake. (Soyabean has 40 per cent of protein content and 26 per cent oil content. Once the oil has been removed, the high-protein residue, known as de-oiled soya, is an excellent source of animal and bird feed, and is in high demand in Argentina, Brazil, etc. Because it is non-genetically
modified, wary European buyers also buy it in large quantities.
The
sharbati
wheat grown in the state is eyed greedily by other north Indian states such as Uttar Pradesh and Punjab because it is much more flavourful than the variety they grow.
All this is facilitated by the large land holdings the state continues to have. You can still buy land and set up an industry in Madhya Pradesh without blood, sweat and tears. Of course, the downside is that the state is deeply feudal. So, Madhya Pradesh has the highest number of reported rapes in India. The rate of crimes against women is high. It is low on human development indices, though Bihar continues to be the lowest.
The point is that Chouhan is one of the most underleveraged chief ministers the BJP has. He is not an administrative genius -- far from it. In fact, in all these years, he has never outlined his vision of Madhya Pradesh. He has a complex about not knowing English. He is intimidated by assertive professional women. He neither has the swashbuckling swagger of Modi nor the almost contemplative cunning of Chhattisgarh Chief Minister Raman Singh. And yet, he is streets ahead of both in terms of political consensus-building.
His colleague Babulal Gaur used to be chief minister. Yet, after he was displaced, Gaur has been working as Chouhan's deputy for more than 10 years without a murmur of protest. Uma Bharati thought she was the best chief minister the state has ever had. But Chouhan has not allowed Bharati to return to the state ever since she left the BJP.
Chouhan has one asset that no BJP chief minister does -- he never ever raises his voice. This emotional equilibrium has stood him in good stead. He doesn't make enemies easily.
Little wonder then, that the RSS views him extremely favourably and is gently nudging him towards becoming a counterweight to Modi. But where he differs radically from Modi is in the one crucial aspect of governance: he is affable and likeable but simply isn't efficient.
Well-informed about his colleagues -- but not efficient. This is the reason Madhya Pradesh Finance Minister Raghavjee has got it into his head that the goods and services tax will be unfavourable for the state and has blocked it single-handedly for the last four years. Had he been smarter, Chouhan might have used his colleague's intransigence to bargain for something else from the Centre. But he's just gone along with it.
Despite a limited governance bandwidth, Chouhan is a man to watch, especially after the Assembly elections. Within the National Democratic Alliance, he could give Modi a run for his money on the acceptability index -- because though Modi might beat him in influencing people, he is much better at winning friends.