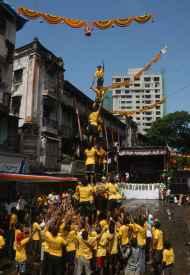 Children under 12 years of age will no longer be allowed to take part in formation of human pyramids during 'Dahi Handi' celebrations, which are integral part of Janmashtami festivities in Maharashtra.
Maharashtra State Commission for Protection of Child Rights recently passed an order banning kids below 12 years of age from taking part in human pyramid formations so as to protect them from suffering injuries.
"We have passed an order which says children below 12 years should not be allowed to take part in the human pyramids because of the risks to their lives.
"There have been many cases where children have fallen and sustained injuries (during 'Dahi Handi' celebrations) because of no safety measures (taken by organisers). A below 12-year-old child is anyway too small," Ujjwal Uke, Principle Secretary Women & Child Development and Chairperson of MSCPCR told PTI today.
The panel, in a report said, it had received several complaints from activists in Mumbai and adjoining Thane (major centres for the event) to take cognisance of the matter.
"Newspaper reports reveal children (in human pyramids) are used without any safety precautions and that hundreds of minors are injured in Mumbai.
"The organisers don't provide any safety measure and even if they do, it is very casual. The organisers of mandals (groups which host the celebrations) are jeopardising the lives of children after offering them huge amounts as prize money to participate," the commission noted.
Uke said the commission had sought a report from the police, who had supported the views expressed by activists and recommended a ban on allowing children to take part in such programmes, citing risk to their lives.
"We have asked Government agencies to take strict action against those flouting our order. The idea is to make sure we do not expose small children to such risks," Uke said.
'Dahi Handi' celebrations involve youngsters (called govindas) forming human pyramids to break pots of curd ('Dahi Handi') hung high.
This immensely popular and colourful event, held in Mumbai and most parts of the state, is patronised by groups backed by political parties. A key feature of 'Dahi Handi' is cash incentives, running into lakhs of rupees, for youngsters who break the pots.