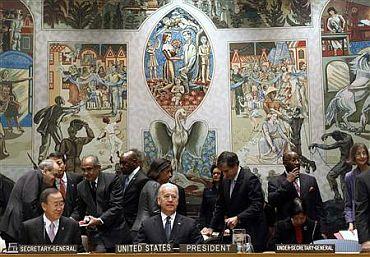 The UN Security Council has passed three resolutions to fortify Iraq's sovereignty, scrapping nuclear sanctions imposed during the Saddam Hussein reign and ending the controversial oil-for-food programme of the 1990s.

At a special session chaired by US Vice President Joe Biden, the 15-nation Council also ended the international control of the Development Fund for Iraq.

The Fund that contains money from oil and natural gas revenues will be under UN supervision until June, and then managed by the Iraqi authorities.

"The Security Council welcomes Iraq's reintegration into the region and encourages Iraq and all regional states to deepen and broaden their relationship and to conduct those relationships in the spirit of partnership and cooperation," Biden said.

This decision cancelled the 1991 resolution, which imposed sanctions on Iraq to prevent it from obtaining nuclear or chemical material that could be used to make weapons of mass destruction.

The danger of WMDs was the justification offered by the US to invade Iraq in 2003 but these were never found.

Now that Iraq signed treaties that prohibit the development of chemical and biological weapons, the country can develop a civilian nuclear programme.

Baghdad is also expected to ratify the addition protocol that will allow UN inspectors to make surprise visits to its nuclear facilities in the future.

"The adoption of these important resolutions marks the beginning of the end of the sanctions regime and restrictions on Iraq's sovereignty, independence and recovery," said Hoshyar Zebari, Iraq's Foreign Minister.

"Our people will rejoice for having turned a chapter on the aggressive, belligerent and defiant behaviour of the previous regime," he told the Council.

These decisions come at a time when the US has formally ended its operations in Iraq, politicians are struggling to form a government in Baghdad, and Iraqi Christians have come under attack.

"Since March progress in forming the new government has been difficult. But we are pleased that the end of this process is in sight and we commend our colleagues there for sticking to their task, keeping talking, and working to reduce ongoing difficulties," said Alistair Burt, UK's minister for the Middle East.
Another resolution ended the oil-for-food programme, which in the nineties was used by Hussein to sell billions of dollars worth of oil to get basic food and medicine for Iraqis who were suffering under crippling sanctions.
The programme, it was recently discovered, was riddled with corruption. France abstained on the passage of the resolution, which will now allow the Iraqi authorities to decide how to spend the revenue.

"This programme was marred with a web of mismanagement and misappropriation and its termination lifts another burden on Iraq's recovery," said Zebari.
Iraq, however, is still required to put down 5 per cent of its revenue in a UN fund towards reparations for Hussein's invasion of Kuwait, and also determine its border with its neighbour, which wants another $22 billion to make up for its losses.

Image: United States Vice President Joe Biden (Centre) sits with UN Secretary General Ban Ki-moon (Left) before the start of the United Nations Security Council High-Level Meeting on Iraq at the U.N. headquarters in New York

Photograph: Reuters