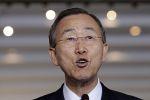 As India executed 26/11 terrorist Ajmal Kasab, the United Nations Secretary General Ban Ki-Moon has called on nations who still use the death penalty to abolish the practice.
Ban welcomed a UN General Assembly resolution, passed earlier this week, that called on all member states to establish a moratorium on executions with a view to abolish death penalty.
The resolution, passed in the general assembly's Third Committee on Monday, got 110 votes in favour while 39 countries voted against it and 36 abstained.
India was among the countries that voted against the resolution.
A day after the draft resolution was passed, India hanged Kasab, the lone surviving 26/11 terrorist who along with 9 other Pakistani gunmen had killed 166 people during the three days that they laid siege on Mumbai in November 2008.
In opposing the resolution, India had said each state has the right to determine its legal system and to punish criminals as per its laws.
"In India, the death penalty is exercised in the 'rarest of rare' cases, where the crime committed is so heinous as to shock the conscience of society.
Indian law provides for all requisite procedural safeguards, including the right to a fair hearing by an independent Court, the presumption of innocence, the minimum guarantees for the defence, and the right to review by a higher Court," India said in its explanation of the vote.
In a statement issued by his spokesperson, Ban said the General Assembly vote "offers the opportunity to again encourage Member States who still practice the death penalty or retain it in law" to follow the example of the 150 nations that have abolished or do not practice the death penalty.
He called on the UN member states to join the worldwide trend and support next month's General Assembly resolution on a moratorium on the use of the death penalty.
Ban said the "record vote" reflects a trend against capital punishment which has grown stronger across regions, legal traditions.
Earlier this year during a high level UN event on death penalty, the Secretary-General had said that the "taking of life is too absolute, too irreversible, for one human being to inflict on another, even when backed by legal process."
Later talking to PTI, Ban's spokesperson said the Secretary General has a moral obligation to reflect the will of the world body where a majority of nations do not favour the death penalty.
While nations may argue that practicing the death penalty should be a sovereign right of each country, a majority of countries have expressed their will through the General Assembly vote that the death penalty should be abolished, the spokesperson said.