Authorities began bulldozing the house of a criminal allegedly linked to gangster-turned-politician Atiq Ahmed in Prayagraj on Friday amid heavy police deployment, the third such demolition in three days.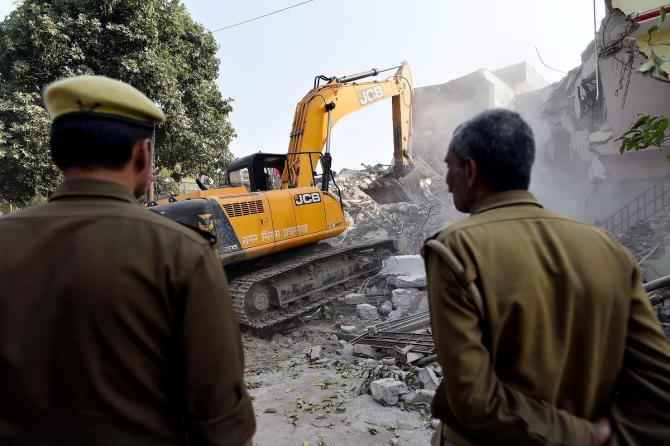 Prayagraj Development Authority officials arrived at the house of Mashookuddin, who has dozens of cases registered against him, in Puramufti area on Friday afternoon with bulldozers and other heavy-duty earth movers and began pulling down the structure.
PDA officials said the house was built illegally.
The police and administration officials were present in large numbers as the demolition progressed.
Mashookuddin is said to be closely associated with Atiq Ahmed, who is lodged in a Gujarat prison.
This is the third consecutive day of PDA action against "illegal" structures built by people linked to Atiq Ahmed, who has been booked by UP police in connection with the killing of Umesh Pal, a key witness in the murder of Bahujan Samaj Party MLA Raju Pal and his two security personnel last week.
Following the incident, Uttar Pradesh Chief Minister Yogi Adityanath had vowed in the assembly that his government would destroy the mafia in the state.
On Thursday, a two-storey building in Dhoomanganj area owned by Safdar Ali, an alleged arms trader linked to Atiq Ahmed, was demolished.
A day before that, the house of Zafar Ahmed, another alleged aide of Atiq Ahmed, was demolished in the city.
Arbaaz, an accused in the Umesh Pal murder case, was killed in an encounter with police on Monday.
On the basis of a complaint lodged by Umesh Pal's wife Jaya Pal, a case was registered against Atiq Ahmed, his brother Ashraf, wife Shaista Parveen, two sons, aides Guddu Muslim and Gulam and nine others.
On Wednesday, Atiq Ahmed, 61, moved the Supreme Court for protection claiming that he and his family have been falsely "roped in" the case and he may be killed in a fake encounter by the Uttar Pradesh police.
In his plea, he also referred to Adityanath's statement in the assembly and claimed there is a "genuine and perceptible threat" to his and his family members' lives.
He has sought directions to the Centre, the state government and others to protect his life against the "open, direct and immediate threat" from high state functionaries of Uttar Pradesh.
Chief Minister Adityanath has often spoken about the actions taken by his government to improve law and order in the state, including frequent reference to bulldozers to raze illegal property of criminals and the mafia.
© Copyright 2023 PTI. All rights reserved. Republication or redistribution of PTI content, including by framing or similar means, is expressly prohibited without the prior written consent.