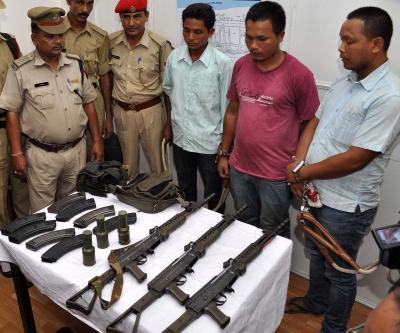 A militant of the United Liberation Front of Assam was killed in an encounter with the security forces on Tuesday.
The police also recovered a cache of arms and ammunition belonging to the anti-talks faction of the outlawed ULFA.
Inspector General of Assam police L R Bishnoi informed that police, in the early hours of Tuesday, recovered a cache of arms and ammunition including three AK 81 assault rifles, nine magazines, three bottle grenades and three mobile handsets from three ULFA linkmen, including a surrendered members of the outfit who were travelling from Sivasagar to Goalpara in a Scorpio vehicle.
They were intercepted by police on the basis of specific information at Jorabat of
Guwahati city near Assam-Meghalaya boundary.
All the three -- Krishna Rabha (surrendered ULFA militant), Priyanath Rabha and Dhananjay Rabha (driver of the vehicle) -- were arrested by police.
During the interrogation, the arrested people revealed that the arms consignment, which was delivered to them in Sivasagar, was to be handed over to a group of ULFA members at Goalpara in western Assam.
According to police, Krishna Rabha, who came out of hiding in 2007, is closely associated with ULFA's top leader Drishti Rajkhowa.
Guwahati police immediately swung into action on the basis of the information and cordorned off an ULFA hideout at Aithan area in Goalpara district near the Assam-Meghalaya boundary.
During the exchange of fire early on Tuesday morning, one militant was killed while the rest fled.
Police claimed that at least two other militants were injured in the encounter.
Image: Assam police with the arrested ULFA militants and seized cache