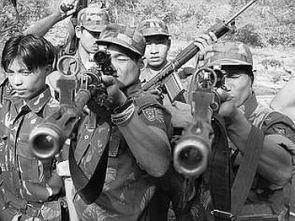 The Bharatiya Janata Party's 'mission 84' (winning 84 out of 126 assembly seats in Assam in 2016 polls) has run into a hurdle put up by the United Liberation Front of Assam-Independent. The militant outfit has threatened to use force to stymie all activities of the saffron party in Assam after January 10, 2015.
The ULFA has set a January 10 deadline for the BJP government in the Centre to make public whereabouts of 26 ULFA leaders and members who had gone missing in the wake of the joint operation launched by Indian and Bhutanese armies to flush out the outfit from Bhutan in December 2003 when the last BJP-led National Democratic Alliance government was in power in New Delh.
In an e-mail statement, the militant outfit pointed out that the Bhutan government had already made clear that a total 168 ULFA leaders and members were arrested by their army during the operation, and were later handed over to the Indian Army
"Out of those, 26 cadres have remained untraced, and the incumbent BJP, should let the families of those missing ULFA members to know their whereabouts," ULFA-I commander-in-chief Paresh Barua said.
The ULFA-I leader warned that unless the BJP government provide information in those missing men, the outfit would use force to resist all sorts of activities of the party and its 'mission 84' in Assam would remain a dream.
Prime Minister Narendra Modi is scheduled to arrive in Guwahati on a two-day visit to Assam from November 29.
Picture used for representational purpose only.
With inputs from PTI