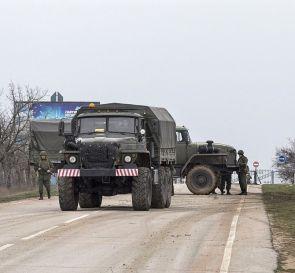 European governments have stepped up diplomatic efforts to de-escalate the crisis in Ukraine, encouraged by Russian President Vladimir Putin's assurance that his country has no intention to annexe the Crimean peninsula or to wage a war against its neighbour.
At a news conference with a group of Russian journalists in Moscow, Putin denied that his country had intervened militarily in Crimea and claimed that hundreds of heavily-armed troops guarding the autonomous region's military bases and other key installations were local self-defence forces loyal to Russia.
Putin also welcomed German Chancellor Angela Merkel's initiative to set up an international "contact group" on Ukraine to resolve the crisis. He said he had asked foreign minister Sergei Lavrov to meet his German counterpart Frank-Walter Steinmeier to explore the possibilities for such a mission.
Steinmeier, who held discussions with Lavrov in Geneva on Monday, expressed optimism that the conflict between Russia and Ukraine could be resolved through diplomatic means. If an understanding can be reached on setting up a "contact group" on Ukraine with the participation of Russia, it could help de-escalate the crisis, he said.
Diplomatic efforts are under way to reach a broad agreement on this proposal within the next 48 hours so that the heads of state and government of the EU can give their final approval when they meet for an emergency summit in Brussels on Thursday, Steinmeier said.
"There is a small chance to initiate a diplomatic process with which the conflict between Russia and Ukraine and the crisis on the Crimean peninsula could be resolved," he said. He also hoped that progress in this area could also eliminate the need for the EU to impose sanctions on Russia.
"Europe is facing the threat of a new division and time is running out to de-escalate the crisis," said Steinmeier who is scheduled to meet Lavrov, US Secretary of State John Kerry and several other foreign ministers at the international Lebanon Conference in Paris on Wednesday.
The present crisis was sparked by a build-up of Russian forces in Crimea amid concerns that Russia may also send troops to Russian-speaking eastern Ukraine.
Meanwhile, the Organisation for Security and Cooperation in Europe based in Vienna decided Tuesday evening to send a military observer mission to Ukraine. The mission will travel to Ukraine on an invitation from the country's new transitional government, the OSCE said.
EU foreign ministers on Monday warned Russia that in the absence of steps to de-escalate the crisis, they would impose "targeted sanctions", including the suspension of negotiations on visa liberalisation and on an agreement on all aspects of EU-Russia relations. Thursday's summit has been convened to approve these and other sanctions against Russia.
Putin said at present he saw no need to send Russian troops to Ukraine. A military intervention in Ukraine in any case will be legitimate because Russia had received an official appeal for help from Ukraine's ousted president Viktor Yanukovych, who is the country's "legitimate president," Putin said.
Image: A military truck drives out of Belbek Airport in the Crimea region
Photographs: Baz Ratner/Reuters
Image: A military truck drives out of Belbek Airport in the Crimea region
Photographs: Baz Ratner/Reuters