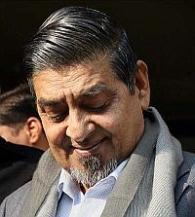 A Delhi court on Monday granted bail to Congress leader Jagdish Tytler, charge-sheeted along with controversial businessman Abhishek Verma, in a case of alleged forgery of a letter sent to the prime minister.
"Bail is granted on a personal bond of Rs two lakh with two sureties of the like amount subject to conditions," Special Central Bureau of Investigation Judge V K Gupta said.
Tytler had appeared in the court today in pursuance to its summons and moved a bail plea, saying he was not required for any custodial interrogation.
Senior advocate Dinesh Mathur, appearing for Tytler, said the Congress leader's name was added in the chargesheet as an accused at the last moment and it cannot be a case of arrest as he has appeared before the court.
Section 420 (cheating) of IPC is not made out against Tytler, he argued.
The bail application was opposed by CBI prosecutor Atul Sharma, who argued that Tytler is a "very influential person" and can tamper with the evidence and influence the witnesses.
The court, on September 6, had taken cognisance of the CBI's chargesheet, which was filed on a complaint of then minister of state for home Ajay Maken that a forged letter on his letterhead was written to the prime minister by Verma, seeking easing of business visa norms in 2009.
Tytler and Verma have been chargesheeted for offence of attempting to cheat under IPC and under provisions of the Prevention of Corruption Act.
Verma is lodged in Tihar Jail after being arrested in various cases lodged against him by the CBI and Enforcement Directorate. Verma and his wife Anca Maria, who are presently in judicial custody, were also produced before the court during the hearing.
The CBI has alleged that Tytler had "actively connived" with Verma to cheat a Chinese telecom firm and the Congress leader had first shown a "fake and forged" letter to the company's officials, claiming that it was written by Maken to the prime minister.
The CBI, in its charge sheet, has said, "Investigation has, therefore, revealed that Jagdish Tytler had knowingly and actively connived with Abhishek Verma in attempting to cheat M/s ZTE Telecom India Pvt Ltd."