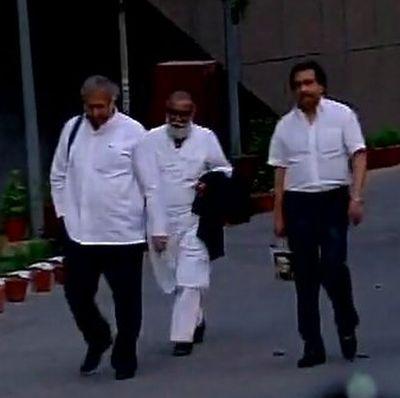 A special court on Wednesday granted bail to Sanjeev Tyagi, cousin of ex-Indian Air Force chief S P Tyagi, and lawyer Gautam Khaitan in VVIP chopper scam case, saying that whether they took the 'kickbacks', as alleged by the Central Bureau of Investigation, can only be looked into during the course of the trial.
Both Tyagi and Khaitan, who were interrogated by the CBI in its custody for seven days, have been asked by special CBI judge Arvind Kumar to furnish a personal bond of Rs 2 lakh and one surety of like amount as prerequisites for release on bail, after the court noted that co-accused S P Tyagi has already been relased on bail.
The court asked both the accused not to leave the National Capital Region without its permission and ordered them not to tamper with the evidence or try to influence the witnesses.
"The present case is based on documents. The accused have joined the probe as and when called by the CBI and have also been interrogated in custody. Documents have already been seized by the CBI after conducting searches at the house of the accused.
"The correctness or otherwise of the allegation as to whether the accused have taken the kickbacks and in what manner they were connected with same, can only be looked into during the course of the trial... No purpose will be served by keeping the accused behind bars. Co-accused S P Tyagi has already been relased on bail," the court said.
The court had on December 26 last year granted bail to 72-year-old former IAF chief Tyagi, saying that CBI had failed to state the alleged bribe amount and when it was paid.
Additional Solicitor General Tushar Mehta, appearing for the CBI, had earlier opposed the bail pleas of the accused, saying, if set free they might influence witnesses and hamper the 'multi-layered probe by various agencies in more than one jurisdiction involving several countries'.
Advocate Pramod Kumar Dubey, counsel for Khaitan, had countered the CBI's argument, claiming that the agency was trying to sensationalise the matter and there was no allegation that his client had not joined the probe or tried to influence it.
Sanjeev Tyagi's counsel Manav Gupta had also opposed CBI's contention saying there was no reason to claim that if granted the relief, his client would hamper the probe.
S P Tyagi, who retired in 2007, Sanjeev Tyagi and Gautam Khaitan were arrested on December 9 last year by the CBI in connection with the case which related to procurement of 12 VVIP choppers from UK-based firm AgustaWestland during the United Progressive Alliance-2 government. The deal was later cancelled.