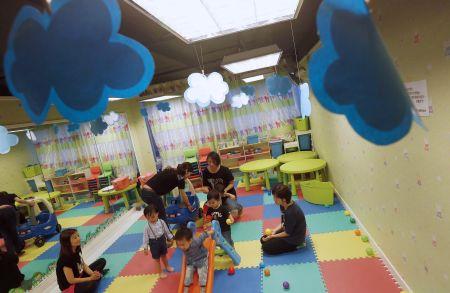 A two-year-old boy was allegedly sexually abused in southern part of Kolkata, with the police saying they are going through CCTV footage of his playschool.
On the complaint of the boy's parents, a case under the Protection of Children from Sexual Offences Act has been registered against unknown persons at the Thakupukur Police Station, a senior officer of the Kolkata police said.
According to the complaint, the incident might have happened on Monday during a Doctor's Day programme at the playschool, where students, teachers and staff members played the roles of doctor and patients.
The boy's father said, "On Monday afternoon, when my wife brought him home from playschool, she was quite irritated. When she took him to the bathroom she found blood oozing from my son's rectum. We took him to a paediatrician, who feared that the child might have been sexually assaulted."
When approached, the school authorities initially denied "any possibility of such incident".
"They promised us that CCTV footage on the day of the incident would be scanned, but later informed us that due to some technical shortcomings there was no recording of that particular period," the father alleged.
Upon the advice of paediatrician of a private hospital, the parents took the boy to SSKM Hospital's paediatric OPD to confirm if the boy was sexually assaulted.
"After getting the report, we lodged a complaint with the Thakurpukur Police Station on Wednesday. We want the police to find out the culprit and do the needful. We think the school authorities should also be held responsible for such a callous attitude," the boy's father said.
The investigating officer of Thakurpukur Police Station said, "We are talking to every individual of the school who were present there on that very day. We are going through the CCTV footage. A case has been initiated under relevant sections of the POCSO Act."
In December last year, a four-year-old student of a school in south Kolkata was allegedly sexually abused by two teachers.