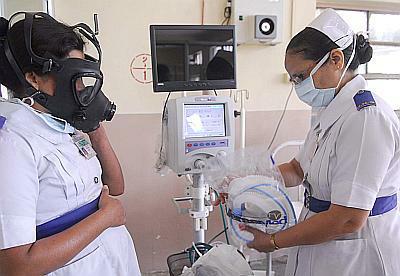 Three persons, including an NRI from Canada, were being checked on Monday for suspected H1N1 flu after they complained of fever and other symptoms even as people were screened at airports across the country for the deadly virus that has hit the US, Europe and Latin America.
A 37-year-old NRI, who came to Hyderabad last week from Ontario in Canada, volunteered to get himself examined on Sunday evening following which he was admitted to the Government Chest Hospital, K Subhakar, Professor, Respiratory Medicine, said.
The NRI has undergone tests and his samples have been sent for examination, he said.
So far, two persons -- including a 29-year-old from Frankfurt in Germany, who arrived in Hyderabad on Sunday morning with cough and fever, have been admitted in the hospital, Subhakar said. Both of them have been kept in isolation, he said, adding their reports are awaited.
Samples of other passengers sent during the last five days to National Institute of Communicable Diseases proved negative and there was no single Swine Flu case reported in Hyderabad, the doctor said.
In Kochi, an 11-year-old boy and a 27 year-old woman, who arrived from the UK and Australia respectively, were being examined by doctors for suspected H1N1 virus, airport sources said.
Both the passengers had stated that they had fever 10 days back, the sources said, adding that they have been taken to the temporary quarantine room at the Kochi airport premises.
Meanwhile, doctors at the Hyderabad International Airport told PTI that no case of suspected swine flu was found during the screening of passengers from abroad on Sunday night and early Monday morning.
Director of National Institute of Communicable Diseases, Shivlal, said in New Delhi that the samples taken from a man from Hyderabad, who came to the south Indian city from Mexico via Los Angeles, has tested negative.
All clinical samples tested so far have been negative for Influenza A, he added.
According to Health Ministry officials, screening of passengers from affected countries is continuing in 21 international airports.
"A total of 41,012 passengers have been screened so far. 140 doctors and 101 paramedics have been deployed to man 59 counters at the above airports," the officials said on Sunday.

Minister of State for Health and Family Affairs Pannabaka Lakshmi had reviewed the situation at a meeting of senior officials in Delhi on Sunday.
A total of 18 countries around the world have reported cases of human swine flu, with hardest-hit Mexico confirming 22 deaths in all.
Image: A hospital in Mumbai gears up against swine flu. A new ward has been created in the Kasturba Hospital in the city to deal with flu patients.
Text: PTI | Photograph: Arun Patil