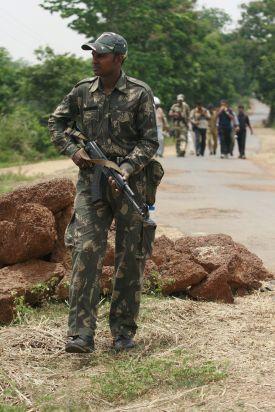 Three police personnel and two Maoists were killed in a gun-battle between security personnel and ultras in dense forests of Chhattisgarh's Bijapur district on Sunday, police said.
The skirmish between the troopers and guerrillas took place near Jappemarka village under Mirtur police station limits on Sunday morning, Bijapur Assistant Superintendent of Police Indira Kalyan Elesela said.
The incident occurred when a joint team of the special task force and district police was on an anti-Naxal operation in Gangaloor and Mirtur areas, around 450 km away from Raipur, when it was ambushed.
When the squad reached Jappemarka forests, a group of armed rebels opened indiscriminate fire at the forces who returned the fire, the officer said. The gunfight lasted for around two hours, after which the Naxals fled into the core forests.
"An STF jawan and another jawan from the district police force died in the incident while another constable-rank jawan succumbed to his injuries while being evacuated. Besides, two Naxals were also killed in the incident," he said.
The ASP said reinforcements were rushed to the spot after the incident, and bodies of the policemen and Naxals are being evacuated and brought to Bijapur district headquarters.
Keeping in view the sensitive nature of the region, the forces are extra-cautious while carrying out the casualty evacuation operation, Elesela said, adding combing operations are underway to trace the ultras.
The deceased personnel were identified as Sitaram Kunjam, the STF constable, Moti Ram, 28, assistant police constable with district reserve group, and Payku Ram Poyam, 26, a constable, the ASP added.
A cache of arms and ammunition was recovered from the spot, he said.
Image: Representation purpose